Sanctions kick-started Russian agricultural boom – Putin
Restrictions imposed after the reunification with Crimea have become a catalyst for domestic farming, according to the president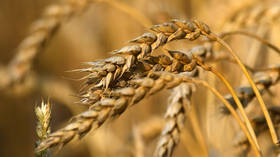 Russia's agricultural sector has benefited from Western sanctions, President Vladimir Putin insisted on Tuesday during a meeting with the State Council.
The sanctions imposed on Russia since 2014 have become a catalyst for the development of domestic agriculture, the president told the group of leading officials during a meeting in Crimea.
Putin explained that international restrictions had created conditions in which domestic farmers had ramped up production to compensate for the loss of exports. As a result, Russia now has a wide choice of environmentally friendly and high-quality local goods, he added.
The president also noted that Russia has steadily increased exports of farm produce.
"Agricultural production grew by 27.4% from 2014 to 2022. And the export of farm produce reached $41.6 billion in 2022, more than double compared to 2014," Putin said during the meeting in Simferopol.
Crimea, a formerly Ukrainian peninsula on the Black Sea, became part of Russia in 2014 after a regional referendum following the Maidan coup which toppled the elected government in Kiev.
The EU and the US described the referendum as an "illegal annexation" and imposed economic sanctions against Moscow. In a tit-for-tat move, Russia banned the import of agricultural goods from Western countries. The sanctions pressure on Russia has progressively increased ever since.
However, despite the restrictions, exports of Russian farm produce continue to grow. According to figures from the Agriculture Ministry, exports increased by 21% in 2021 and 10% last year.
For more stories on economy & finance visit RT's business section
You can share this story on social media: