Russia has 'adapted' to sanctions – finance minister to RT
The West has been left 'disappointed' by Russia's resilience to the punitive measures, most of which have backfired, Anton Siluanov says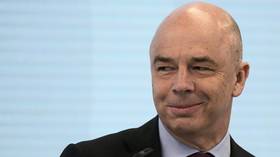 Responsible economic policy has allowed Russia to keep its economy afloat and in many ways improve its performance throughout the past year despite the unprecedented sanctions pressure, Russian Finance Minister Anton Siluanov claimed in an interview with RT on Friday.
According to Siluanov, the measures taken by the Russian government to offset the impact of the Ukraine-related Western sanctions have "disappointed" those who predicted a double-digit GDP drop, high inflation, and a sharp decline in the incomes of Russian citizens. Siluanov noted that the country's economy dipped by only 2.1% in 2022, which is even less than the decline of 2.7% in the pandemic-marred 2020.
Inflation was also kept under control, Siluanov said, registering at just under 12% by the end of the year. Real disposable incomes decreased by about 1% for the year, but were showing positive dynamics by the year's end. This was thanks to government measures taken to help individuals and business owners, ranging from hikes to the minimum wage to various support programs for industries and businesses.
"All of this made it possible to minimize the financial consequences of high inflation, which the country faced in the first half of last year…" Siluanov summarized. He noted that the positive year-end results were also achieved due to the "responsible macroeconomic policy" conducted in recent years.

"We had balanced spending and budget deficit policies thanks to the budget rule. Russia also has a low national debt, which at the beginning of this year was 15.1% of GDP… which gives us maneuverability in terms of operations on the financial market and allows us to borrow to cover future budget expenditures. We also created an independent system of financial transactions [and] our own system of transmitting financial messages. Therefore, all decisions of the West to disconnect Russian banks from SWIFT, as well as Visa and Mastercard systems, have absolutely no impact on our domestic operations and payments… All of this has generally created the basis for financial stability," he explained.
Siluanov noted that sanctions have backfired, leaving Western countries to "suffer from their own restrictions" imposed on Russia.
"Sanctions are harmful. And they are harmful not only to Russia, but also to those who impose these restrictions, as well as to global trade as a whole… When one imposes restrictions, it is impossible not to feel their impact on oneself."
Russia, meanwhile, is in no way intimidated by sanctions, he noted.
"Russia is learning and working under the new conditions. Moreover, while responding to new challenges, we began to actively invest in our own products, which we used to acquire abroad. Last year was not an easy one for our country's economy... Nevertheless, Russia has already adapted... Despite the bans on the export of our commodities and non-commodities, we have found new markets. If you look, for example, at the volume of our hydrocarbon production last year, not only did it not shrink, but it grew," he stated.
Siluanov noted that in fact the process of reorienting the Russian market towards self-sufficiency started back in 2014, when the country first faced Western sanctions over the reunification with Crimea.
"We have already been through all this. For example, before 2014, the shelves in our stores were mainly filled with imported food items, but now they are ours. The same will happen with industrial goods. It just takes more time. We hope that the measures that were taken in 2022 and are being taken now will make it possible to finally stabilize the macroeconomic and financial situation this year. We can see that so far everything is going according to plan," he concluded.
For more stories on economy & finance visit RT's business section
You can share this story on social media: