West pressuring UAE to stop trading with Russia – FT
Washington views the surge in electronics exports to Moscow as potential sanctions evasion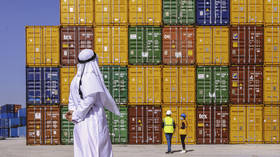 Western countries are seeking to compel the United Arab Emirates to stop exporting critical goods to Russia, particularly electronics, the Financial Times reported on Wednesday, citing sources.
According to the report, Washington believes these exports, which have recently spiked in volume, can be used for military purposes in Russia's operation in Ukraine. Officials are concerned that the UAE is being used as a "re-exporting" hub through which certain goods are sold in order to evade Western sanctions on Moscow.
The news outlet notes that a number of officials from the US, EU, and UK have already approached the UAE authorities in order to clarify the trade restrictions that were placed on Russia throughout the past year and urge them to stop what they suspect to be sanctions evasion.
"Our main request [to the UAE] is that they stop the re-exports [and] acknowledge these re-exports are problematic," an unnamed official close to the discussions told the FT, noting that "conversations are continuing."
The UAE is home to one of the world's biggest transshipment hubs, the Jebel Ali port in Dubai, and is Russia's largest Gulf trading partner, accounting for 55% of total trade between Moscow and the Gulf countries. UAE exports of electronic parts to Russia grew more than sevenfold in 2022, amounting to nearly $283 million and making them the largest export item to the country, the FT stated, citing Russian customs data analyzed by the Free Russia Foundation. UAE exports of microchips to Russia reportedly surged 15-fold versus 2021.
Apart from soaring exports, the UAE has reportedly been gaining popularity as a financial haven for wealthy Russians. The Gulf state hosts more than 4,000 Russian companies and is currently in talks with Moscow over a free-trade agreement between the UAE and the Russia-led Eurasian Economic Union.
Several officials warned that the Gulf country could face sanctions itself should it fail to stop the allegedly illicit re-exports to Russia.
"Part of the message for the private sector… is that they're playing roulette. Anyone who's trading in these goods, they now are subject to sanctions because some of the goods they ship are showing up on the battlefield," said James O'Brien, head of the US office of sanctions coordination following a trip to the UAE last month.
The UAE has been largely neutral in the Ukraine conflict. It has refrained from placing sanctions on Russia but has kept close ties with its Western partners, with which it shares historically close bonds.
For more stories on economy & finance visit RT's business section
You can share this story on social media: