UK and EU strike post-Brexit deal
An agreement on the Northern Ireland protocol has reportedly been reached following high-level talks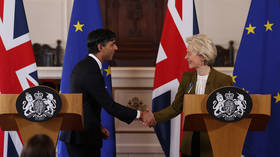 Britain and the EU have signed off an agreement on a post-Brexit issue regarding Northern Ireland to end trade disputes in the region.
The agreement was struck during high-level talks on Monday in Windsor, England, between UK Prime Minister Rishi Sunak and European Commission President Ursula von der Leyen.
The pact will determine how border checks are handled in Northern Ireland, which is part of the UK but shares a land border with the Republic of Ireland, an EU member state. Before Brexit, it was easy to transport goods across that border because both sides followed the same EU rules.
"An agreement has been reached. The deal is done," a senior UK government source said, as quoted by The Independent.
According to The Guardian, also citing government sources, Sunak said at the meeting that the UK and the EU have had their differences, but they are friends. This is the beginning of a "new chapter," he reportedly said.
"I'm pleased to report that we have now made a decisive breakthrough. Together we have changed the original protocol and are today announcing the new Windsor framework," the prime minister was quoted as saying by the newspaper.
"Today's agreement delivers smooth-flowing trade within the whole United Kingdom, protects Northern Ireland's place in our union, and safeguards sovereignty for the people of Northern Ireland," he added.
Sunak also said he expects Northern Ireland's Democratic Unionist Party (DUP) and other parties to "take time" to evaluate the protocol deal.
Von der Leyen called the result of the negotiations "extraordinary," noting that the agreement would ensure that all food and medicines available in Britain are accessible in Northern Ireland too.
The historic UK-EU agreement is expected to be formally announced by Sunak and von der Leyen at a joint press conference in Windsor later on Monday.
For more stories on economy & finance visit RT's business section
You can share this story on social media: