UK urged to 'take command' of food production
A British farming union says Brexit, geopolitical tensions, the energy crisis and climate change are weighing on local growers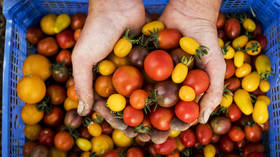 The UK government needs to "take command" of local food production, the deputy president of the National Farmers' Union (NFU) said on Saturday, warning that an ongoing shortage of fruit and vegetables across the country could be just the "tip of the iceberg."
According to Tom Bradshaw, the deficit of some fruits and vegetables, including tomatoes and cucumbers, has been caused by volatility arising from geopolitical events, and climate change, which is putting intense pressure on supply chains.
"What we saw last summer with 40°C heat is climate change in action," Bradshaw told Times Radio, adding that the weather had exacerbated a supply-chain crisis triggered by the Russia-Ukraine conflict.
Bradshaw also said geopolitical tensions have driven up inflation, particularly energy inflation, to unprecedented levels, leaving UK farmers struggling to meet energy costs.
Moreover, Britain has been facing the additional challenge of "repositioning" itself with trading partners since the 2016 Brexit referendum, the union chief said.
He noted that the country's exit from EU structures, in which it had favorable trade relations, has inevitably inflicted damage on its own cross-border trade.
"It's really interesting that before Brexit we didn't used to source anything, or very little, from Morocco but we've been forced to go further afield and now these climatic shocks becoming more prevalent have had a real impact on the food available on our shelves today," Bradshaw concluded.
For more stories on economy & finance visit RT's business section
You can share this story on social media: