British supermarkets begin rationing vegetables
Bad weather and high energy costs may result in tomatoes, cucumbers and peppers disappearing from shelves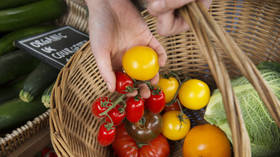 The UK's largest grocer, Tesco, has joined rivals Asda, Morrisons and Aldi by slapping limits on purchases of salad vegetables due to supply shortages, the company announced on Wednesday.
Tesco said it decided to limit the sales of tomatoes, peppers and cucumbers to three per person. The company noted that it was introducing these limits as a precautionary measure, in order to ensure that more people get the goods they need.
Budget supermarket chain Aldi has also placed a "temporary" three-item limit on these vegetables. Asda capped purchase limits to three per person on eight products, including broccoli and raspberries, while Morrisons limited purchases to two per person on four products, including broccoli.
Analysts say the current troubles stem from two reasons. Firstly, suppliers in Morocco and Spain, the UK's biggest sources of fresh vegetables in the winter, have been suffering from cold temperatures, rain and flooding over the past month, which disrupted harvests and halted deliveries. Secondly, the UK's own farmers have been struggling to power their greenhouses due to rising energy prices.
According to the British Retail Consortium, which represents all the major UK supermarkets, supply constraints are likely to last a "few weeks," until the growing season kicks off and shops find alternative suppliers. The UK's secretary of state for environment, Theresa Coffey, suggested on Thursday that British shoppers should switch to turnips and other seasonal UK vegetables instead of pining for overseas tomatoes.
"A lot of people would be eating turnips right now rather than thinking necessarily about aspects of lettuce, and tomatoes and similar.
"But I'm conscious that consumers want a year-round choice and that is what our supermarkets, food producers and growers around the world try to satisfy," she stated.
Meanwhile, industry experts warn there may be price increases as a result of the shortages in the coming weeks. It comes as food prices in the UK are already rising at their fastest rate in over 40 years, having jumped 16.8% year-on-year in December.
For more stories on economy & finance visit RT's business section
You can share this story on social media: