Russian lender granted banking license by Gulf state – FT
MTS Bank is reportedly the first foreign bank in several years to be approved to operate in the UAE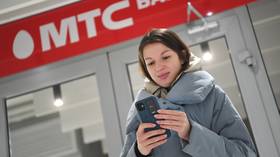 The United Arab Emirates has approved a license for Russia's MTS Bank, sparking speculation that the Gulf state could become a potential financial haven for Moscow, the Financial Times reported on Wednesday.
According to the report, which cites officials and executives briefed on the matter, the decision by the UAE's central bank will help meet the growing demand for financial services from Russian expatriates. "It's all about the business case [and] the number of Russians living here now," one of the sources was quoted as saying.
The outlet pointed out that tens of thousands of Russians who settled in the UAE to escape financial restrictions in the EU or avoid the military draft back home have been complaining about difficulties in opening bank accounts there.
One FT source suggested that this move will ease access to bank accounts for Russians and open a new channel for money to flow into the UAE. He said that MTS Bank's chairman, Ilya Filatov, visited the UAE last week as the lender prepared to roll out its services in the coming months.
MTS Bank is the first foreign bank in several years to receive a license in the UAE, according to the FT. A subsidiary of Russia's largest mobile operator, the bank is not subject to Western sanctions.
Meanwhile, the US and EU have reportedly started raising concerns about the UAE's financial interactions with Russia. The US Treasury undersecretary for terrorism and financial intelligence, Brian Nelson, talked about the license during a visit to Abu Dhabi last week. "[He] conveyed broad concerns about financial connectivity with Russia, even via non-sanctioned banks," a person familiar with the discussions told the FT.
As part of its unprecedented anti-Russian economic restrictions, Western countries have prohibited any transactions with the country's sanctioned banks.
For more stories on economy & finance visit RT's business section
You can share this story on social media: