Russian economy doing much better than expected – Putin
The financial results for 2022 have exceeded many forecasts, the president says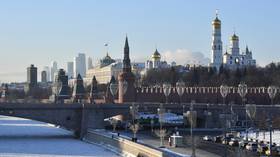 Russia's gross domestic product (GDP) fell by only 2.1% in the first 11 months of last year, which is much better than projected, President Vladimir Putin said on Tuesday. He was opening a government meeting on economic issues, which he held via video conference.
According to the Russian leader, the decrease for the full year is expected to be 2.5%, while the actual dynamics last year were positive.
Putin said inflation in Russia in 2022 was 11.9%, which was also lower than forecasts, including those of the country's central bank.
The head of state called for a "tangible increase" in the salaries for Russian citizens in 2023, noting that rising prices directly affect the incomes of consumers. "This is fundamentally important both for the real incomes of citizens and for the economy as a whole," he stressed.
According to Putin, in the first quarter of this year, inflation will drop to 5%, and in the second quarter it will be less than 4%.
Putin called for the positive trend to be maintained in the development of the economy, highlighting the growth rates in the agro-industrial and military-industrial complexes. As for the latter, some enterprises have switched to round-the-clock work, gaining serious momentum, according to the president.
Talking about Russian gas producers, he noted that they had a good year in 2022.
"At the same time, I note that world gas prices have risen significantly due to the actions of Western countries, and as a result, Russian gas producers and exporters have made a good profit for the past two years and significantly increased payments to the country's budget system," Putin said.
He also noted that the production of natural gas in Russia in 2022 had decreased by 11.8%.
For more stories on economy & finance visit RT's business section
You can share this story on social media: