Former Soviet republic unveils loophole for buying Russian debt – Bloomberg
Kazakhstan has reportedly recorded a 100-fold surge in the volume of registered Russian bonds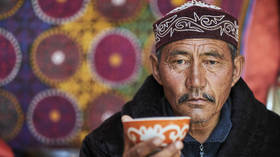 Transactions with ruble government securities through Kazakh brokerages have generated deals worth a total of $1.4 billion (641.1 billion tenge) since March, according to Kazakhstan's Agency for Regulation and Development of Financial Market, as quoted by Bloomberg.
The regulator revealed details of the scheme used by investors to bypass Ukraine-related sanctions on Moscow, which left many foreigners unable to divest holdings in Russian debt. The watchdog, however, didn't provide earlier figures for comparison, according to Bloomberg.
Through December 1, Kazakh residents reportedly accounted for 48.7% of the purchases among brokerages that used customer funds in the transactions, whereas the share of Russians stood at 41.4%. Other buyers included clients from the United Arab Emirates and Slovakia.
According to the regulator, six Kazakh brokerages were involved in transactions with Russian debt, using their own money along with customer funds. The financial authorities added that commission houses take into account the existing system of sanctions and work in compliance with anti-money laundering laws by carrying out a proper audit of all potential customers when accounts are opened and used.
In December, media reports suggested that financial firms in Kazakhstan were scooping up Russian government debt at a major discount from investors unable to exit the market because of sanctions and other restrictions. Using Kazakh clearing houses to register the securities enables buyers to collect coupon and principal payments.
The Central Securities Depository of the former Soviet republic had previously reported a 100-fold surge in eight months in the number of registered Russian Eurobonds and ruble government securities, the latter known as OFZs, issued by the Russian Finance Ministry.
An index of Russian government bonds finished last year down about 4%. This marks a recovery from the double-digit losses it suffered in the months after the beginning of the military operation in late February.
Investing in bonds issued by the Russian government puts local brokerages under increased risks due to the "high level of volatility in securities markets, low liquidity, and the threat of secondary sanctions related to the geopolitical situation," the Kazakh regulator explained.
For more stories on economy & finance visit RT's business section
You can share this story on social media: