EU becomes world's biggest LNG importer
The bloc's purchases of liquefied natural gas outstripped those of China, Japan and South Korea in 2022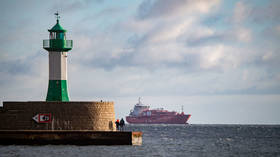 Purchases of liquified natural gas (LNG) made by countries of the European Union in 2022 soared 58% versus the previous year, making the bloc the world's number one importer of the fuel, FT reported Monday, citing data from Refinitiv.
Last year, the EU's imports of LNG amounted to 101 million tons, having outpaced purchases made by China, Japan and South Korea.
EU imports of LNG equaled 137 billion cubic meters (bcm) of natural gas, which is just three bcm less than the volumes supplied by Russia in 2021. Last year, the import of Russian gas transferred by pipelines more than halved to 60 bcm.
As a result, the bloc accounted for 24% of global LNG imports during the period, At the same time, the share of Japan and China totaled 17% and 15% respectively, while South Korea accounted for 11% of the world's imports of LNG.
LNG now makes up some 35% of EU's total gas supplies, up from 20% recorded in 2022, according to think-tank Bruegel, which noted that the share of Russian gas was reduced from 40% to 15%.
In 2021, Russian gas accounted for about 45% of EU's imports and nearly 40% of the bloc's total consumption. However, Russian gas supplies to the region have been on a steady decline since the launch of Moscow's military operation in Ukraine and the subsequent wave of EU sanctions.
The situation worsened dramatically in early July following the first disruption of Russian supplies to a number of EU countries, attributed to turbine maintenance issues due to sanctions. Then the Nord Stream pipeline was blown up in September, rendering it inoperable.
In December, the International Energy Agency (IEA) warned that EU member states face a potential gas shortfall of 27 bcm in 2023 if the bloc doesn't take more decisive action to improve energy efficiency.
For more stories on economy & finance visit RT's business section
You can share this story on social media: