Russia-Japan trade surges despite sanctions – media
The growth is being driven by high global energy prices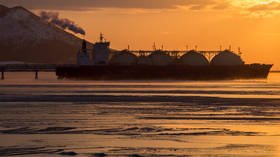 Trade between Russia and Japan saw an annual increase of 10% in the first 11 months of 2022 despite Ukraine-related sanctions introduced against Moscow by the West, according to estimates made by TASS, based on Japanese trade statistics.
In monetary terms, bilateral trade reportedly amounted to 2.365 trillion yen (some $18 billion).
The increase was mainly attributed to volatility on the global energy market, as oil prices surged due to economies re-opening after Covid-19, followed by anti-Russia sanctions and Moscow's retaliatory measures.
Russia, one of the world's biggest oil producers and exporters, remains one of the major suppliers of liquefied natural gas (LNG) to Japan. The sanctions-hit country accounts for about 9% of Japanese imports of the fuel. Russian gas accounts for 3% of electricity generation in Japan.
Consequently, soaring gas prices during 2022 sent Japan's imports from Russia in monetary terms surging 35% to 1.82 trillion yen (nearly $13.9 billion). Meanwhile, Japan's exports to Russia dropped 30.7% to some 540 billion yen (about $4.14 billion).
Tokyo reduced purchases of Russian crude to almost zero in July and August. Moreover, Japan has joined the oil price cap scheme adopted by the Group Seven nations last month. The mechanism bans Russian oil cargoes that are traded above $60 per barrel from getting key services provided by Western companies, including insurance. The price ceiling may be revised depending on market conditions.
Japan's sanctions on Russia target over 50 enterprises and more than 900 individuals. Besides, the Japanese authorities have frozen the assets of Russian banks and the assets of nearly 40 companies and organisations.
For more stories on economy & finance visit RT's business section
You can share this story on social media: