China's 'green' plans go up in smoke – govt data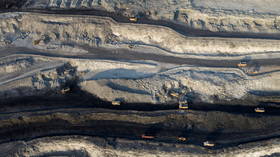 China has ramped up coal production to its highest level since 2015 in a push to reign in record energy prices and boost supply.
Both the globe's biggest coal producer and consumer, China produced some 357.09 million tons of coal in October, up nearly 7% from a month before, figures released by the country's National Bureau of Statistics on Monday show.
Moreover, last week, coal production in the country surged to a record high of 12.05 million tons a day, China's National Development and Reform Commission reported.China's overall coal output over the first 10 months of 2021 grew 4% year-on-year.
The output increase is the result of state-approved expansions at over 150 coal mines across the country. The government also recently banned local authorities from closing coal mines without the green light from Beijing and called for an immediate restart at closed mines once problems that led to their shutdown were solved.
Spot coal prices at China's northern ports plunged on Monday to nearly half their mid-October levels on news of the output boost and Beijing's other recent steps to rein in the country's lingering energy crisis.
The dirtiest of fossil fuels, coal, provides nearly 60% of China's electricity needs. The country, which in recent years has been moving to curb coal overproduction under the agenda to switch to greener energy sources, was recently forced to reverse its steps.
READ MORE: Russia helps China overcome energy crisis by boosting electricity exports
As the country began to recover from Covid-19, a surge in industrial demand nearly tripled coal prices, prompting electricity producers to curb output, which led to power outages and disruptions at China's many industrial sites. Several Chinese provinces were reported to have been hit by power cuts and supply problems in the past two months, affecting both households and a number of factories fueling the world's second largest economy.
For more stories on economy & finance visit RT's business section
You can share this story on social media: