Russian vodka, chocolate & wine in demand … in Argentina?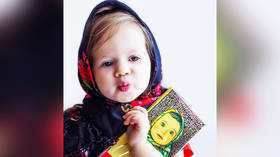 Products made in Russia, such as wine, vodka and chocolate, could be in high demand on the shelves of Argentinean shops, said a member of the Chamber of Deputies of the National Congress of Argentina, Carlos Gaston Roma.
"Russian wine has a different flavor … If you go to a wine boutique in Argentina, you will find shelves with wines from South Africa, Chile, America, but there are no shelves with Russian wine. And this is a challenge for Russia as consumers are becoming globally oriented and want to taste wine from different regions," he told RIA Novosti after visiting Crimea.
Also on rt.com
Traditional Russian ice cream melts the heart of Africa
According to the deputy, there are many high-quality products in Russia which could be presented on the global market.
READ MORE: Russia becoming a leading world food supplier – Agriculture Ministry
"I brought chocolate from Russia, it is very good chocolate, but I think that people do not have enough information about it. If you happen to be at any airport in the world, there will be brands from Switzerland, Germany, Italy, from America, but not from Russia," he said.
Also on rt.com
Two to tango: Russia & Argentina may dump dollar in favor of local currencies in mutual trade
The Argentinian official added that "It's the same situation with Russian vodka." He noted that vodka is a Russian product but "here in Argentina we drink French vodka."
Trade turnover between Russia and Argentina surged 25 percent last year, surpassing $1 billion, and has potential for further growth, according to Russian Ambassador to Argentina Dmitry Feoktistov.
For more stories on economy & finance visit RT's business section