World's tallest wooden skyscraper to soar 350 meters above Tokyo (VIDEO)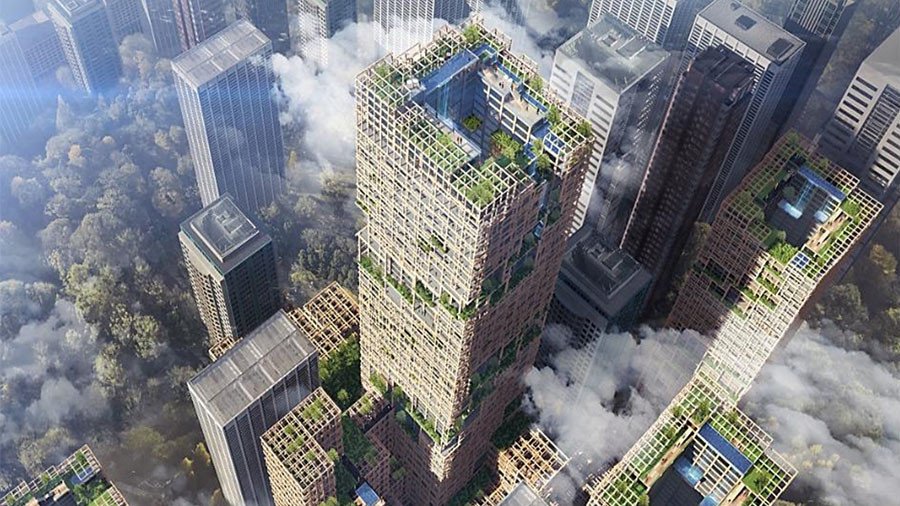 Japanese company Sumitomo Forestry plans to build the world's tallest wooden skyscraper to mark its 350th anniversary in 2041. The 70-storey building will be made of 90 percent wood.
According to the company, the 350-meter tall tower, called the W350, will comprise 185,000 cubic meters of timber. It is expected to cost around 600 billion Japanese yen ($5.6 billion).
W350 will house offices, shops and hotels, as well as about 8,000 homes. There will also be balconies and greenery on every level.
"The interior structure is made of pure wood, producing a calm space that exudes warmth and gentleness," said Sumitomo in a statement.
Balconies will reach around all four sides of the building, giving a space "in which people can enjoy fresh outside air, rich natural elements and sunshine filtering through foliage."
Sumitomo explained the aim of the W350 is to "create environmentally-friendly and timber-utilizing cities that become forests through increased use of wooden architecture."
The "braced tube structure" will "prevent deformation of the building due to lateral forces such as earthquakes and wind."
The company believes the cost will come down as timber becomes a more-frequently used material: "Going forward, the economic feasibility of the project will be enhanced by reducing costs through technological development."
Forests cover approximately two-thirds of Japan's land area, though the self-supply rate for domestically-produced timber is only at around 30 percent.
"The devastation of domestic forests due to insufficient maintenance is becoming a problem. Increased timber demand will promote replanting and contribute to the revitalization of forestry," the company said in the statement.
For more stories on economy & finance visit RT's business section
You can share this story on social media: