Adiós gringo? Venezuela & Russia negotiating swap of US dollar for ruble in bilateral trade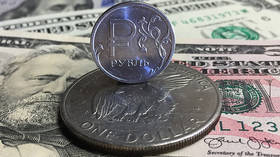 Caracas is in talks with Moscow over the possibility of using the Russian ruble in mutual trade settlements and abandoning dollar transactions, according to Venezuela's representative to the UN office in Geneva Jorge Valero.
The ambassador added that the countries are also discussing the use of Venezuelan state-sponsored oil-backed cryptocurrency El Petro, launched last year.
Caracas pegged the value of the petro to the price of one barrel of Venezuelan oil. The government also pegged Venezuela's national currency, the bolivar, to El Petro last summer.
Also on rt.com
Russia and China ditching dollar for national currencies payment system to avoid sanctions
Numerous sanctions introduced against Venezuela by the US have forced the Bolivarian Republic to stop using the dollar for its international transactions. It switched to the euro last October. In addition, the country started swapping crude oil for imported products.
Venezuela is currently trying to get over one of the worst economic crises in history with hyperinflation heading for 10,000,000 percent this year, according to the forecast by the International Monetary Fund.
Also on rt.com
Back to basics: Venezuela wants to barter its crude for goods to bypass US sanctions
Valero added that Caracas counts on the Kremlin's support in restructuring Venezuela's foreign debt.
The diplomat stressed that the US penalties against the Venezuelan oil sector, along with freezing its dollar accounts, has had an enormous negative impact on the country's economy. The measures deprived the Latin American nation of free access to international financial support and investments in its oil sector.
For more stories on economy & finance visit RT's business section
You can share this story on social media: