Airbus gets chance to cash in as Boeing's second biggest client turns its back on troubled jets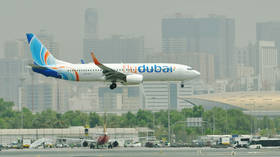 Emirati state-owned low-coster Flydubai is negotiating potential purchases of new А320 Neo jets with European aerospace giant Airbus to replace its Boeing 737 MAX planes that have been grounded globally after two deadly crashes.
The announcement comes amid the latest crisis the US plane maker faced after two fatal accidents, involving its best-selling airliners – last month's Ethiopian Airlines crash and the Lion Air crash in October 2018, took lives of 346 people.
The deadly tragedies led to the grounding of all 737 MAX 8 jets by global regulators. Some air carriers filed lawsuits against the world's biggest aerospace corporation over losses due to the move. The manufacturer pledged to fix the problem, which had allegedly caused the crashes, through software updates and changes to pilot training procedures.
Also on rt.com
Boeing withdraws 2019 financial forecast & pauses share buybacks amid mounting concerns over 737 MAX
According to Flydubai, the second largest customer of the now-grounded Boeing 737 Max jets, the current uncertainty around MAX 8s has forced it to look at alternatives. The company has ordered 250 of the new model narrow body jets, which were scheduled for delivery by 2030.
"That gave me an option to talk to Airbus to see what exactly will happen because you have to understand until today we don't have a definite date when this aircraft will be flying. I cannot just not do anything about it," the carrier's chairman Sheikh Ahmed said, as cited by the National.
Flydubai that was forced to ground the entire fleet of 14 MAXs after directives from the UAE aviation regulator joined the list of global airlines in demanding compensation from Boeing. The step triggered "a disturbance and a number of shrinking of routes," according to the firm.
Also on rt.com
Safety optional? Boeing told Southwest 737 MAX alert feature NOT ON by default after Indonesia crash
Flydubai's Chief Executive Ghaith al-Ghaith has also expressed confidence about Boeing's ability to take the right decision concerning the grounded planes.
"I trust that the relevant authority will ensure the Boeing 737 MAX is the safest," the top executive said at a CAPA Aviation Summit in Dubai.
Meanwhile, one of Australia's largest airlines, Virgin, announced plans to delay delivery of its order of 48 Boeing 737 MAX jets, citing safety concerns. The first batch of aircraft was to join the company's fleet from between November 2019 and July 2021.
Also on rt.com
Boeing's latest crashes pose serious risk to global AI development – analysts
"Safety is always the number one priority for Virgin Australia. As we have previously stated, we will not introduce any new aircraft to the fleet unless we are completely satisfied with its safety," Virgin Chief Executive Paul Scurrah said in a statement. "We are confident in Boeing's commitment to returning the 737 MAX to service safely and as a long-term partner of Boeing, we will be working with them through this process."
For more stories on economy & finance visit RT's business section
You can share this story on social media: