Turkey embraces Russia's national payment system credit card Mir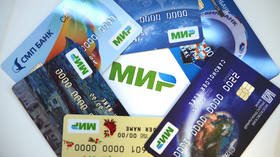 The largest banking chain in Turkey, along with the country's 10,000 online retailers, have started accepting Russia's Mir cards, according to the CEO of Russia's national payment system (NSPK), Vladimir Komlev.
"We would like to announce that today is a great day. Mir cards are now accepted in Turkey. Yesterday, the testing was finalized," the executive said, noting that the banking giant Is Bankasi has over 6,500 ATMs across Turkey and operates the country's biggest acquiring network. An acquiring institution processes credit or debit card payments on behalf of a merchant.
Also on rt.com
Major Russian bank ready to shut off Visa & Mastercard, halves dollar holdings
The Russian national charge card will be accepted in more than 40,000 trade outlets all over Turkey. Komlev added that the operator of Mir is currently integrating the cards with one of Turkey's oldest lenders, Ziraat Bank.
According to the CEO, the Mir payment system had initially tried to cooperate with Google Pay and Apple Pay to integrate Russian cards into international contactless payment systems, but the operator said it "felt a chilly attitude" from the American firms.
Last month, the state-run firm launched its own contactless payment service, dubbed MirPay. The application is currently available on mobile phones running on Android with Russia's banking majors supporting the service.
The official said that the launch of the contactless payment service by Mir operator "quickly sparked interest from Google Pay and Apple Pay" with discussions on integration resuming.
Also on rt.com
Crimea ditches Visa & MasterCard in favor of Russian national payment system
The Mir payment system was launched by the Central Bank of Russia in 2015, a year after Western sanctions against the country were introduced. Back then, several Russian banks were temporarily unable to use Visa and Mastercard due to the penalties.
The country has issued 53 million Mir cards as of January 2019, according to Elvira Nabiullina, the head of the Russian Central Bank, which owns the operator.
Mir cards are currently accepted in Armenia, Kyrgyzstan, Belarus and Kazakhstan. The Mir operator is planning to introduce Russian national cards in Uzbekistan by the end of the current year.
For more stories on economy & finance visit RT's business section
You can share this story on social media: