Nuts, ketchup & bicycle pedals: EU targets US goods with retaliatory sanctions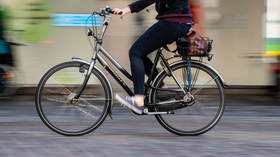 The EU has unveiled a wide-ranging list of US imports worth $20 billion which it could target in retaliation for a subsidy battle between rival European and American planemakers, Airbus and Boeing.
The European Commission launched consultations on Wednesday as it issued the 11-page document listing US goods being considered for additional import duties.
The long list covers a considerable amount of agricultural products, including fruits, coffee and tobacco, and extends to other spheres such as aviation. The possible levies may hit various items ranging from ketchup, vodka, chocolate and lobsters to video-game consoles, bicycle pedals, tractors, shovels and handbags.
Also on rt.com
US proposes $11bn in tariffs on European products over Airbus subsidies
A discussion on the proposed list is open until May 31 and the commission said it is up to the World Trade Organization (WTO) arbitrator to determine the exact level of countermeasures.
"European companies must be able to compete on fair and equal terms," EU Trade Commissioner Cecilia Malmstrom said in a statement. "We must continue to defend a level-playing field for our industry."
The official added that the retaliatory measures are on the agenda so that the EU is ready "in case there is no other way out," but stressed that the bloc still does not want to be embroiled in "tit-for-tat" measures and hopes that dialogue will prevail.
Also on rt.com
Airbus-Boeing conflict benefits China, France warns
"The EU remains open for discussions with the US, provided these are without preconditions and aim at a fair outcome," she noted.
Washington and Brussels have been locked in a bilateral dispute at the WTO, with each claiming that Airbus and Boeing benefitted from illegal subsidies given to them. The two sides have been battling for almost 15 years over the matter, before it escalated, last week, when the US vowed to impose import tariffs on $11 billion worth of European goods.
In late March, the WTO appellate body confirmed that the US failed to comply with the organization's rules on subsidies and "continued unabatedly its illegal support of its aircraft manufacturer Boeing to the detriment of Airbus," according to the European Commission.
For more stories on economy & finance visit RT's business section