Airbus-Boeing conflict benefits China, France warns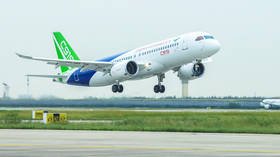 The escalating trans-Atlantic subsidy dispute between European aircraft maker Airbus and US rival Boeing can only benefit Chinese aircraft manufacturing, the French finance minister believes.
Washington and Brussels have been involved in a long-running dispute, accusing each other of providing illegal subsidies to their respective flagship plane makers and thus allowing the companies to benefit from state assistance.
The latest escalation came on Tuesday. US President Donald Trump threatened to slap $11 billion worth of goods from the EU with import tariffs after the World Trade Organization (WTO) found that EU subsidies to Airbus cause "adverse effects" to the US.
Also on rt.com
US proposes $11bn in tariffs on European products over Airbus subsidies
France's finance minister, Bruno Le Maire, called the conflict between the US and European aircraft-making giants "absurd," as the "two industries are totally intertwined" and depend on each other for a number of components.
"A commercial war between Boeing and Airbus will only play into the hands of COMAC [Commercial Aircraft Corp of China Ltd]," Le Maire was quoted as saying by Reuters on Wednesday as he spoke at the French Institute of Foreign Relations.
READ MORE: US will 'put tariffs on $11 billion of EU products' – Trump
COMAC is a Chinese state-owned commercial aircraft manufacturer which was created in 2008 in an apparent bid to reduce the country's dependency on Boeing and Airbus. The company says it aims to become "a world-class aviation enterprise by 2035." The Chinese airplane producer has three jets among its products, but only one, ARJ2, has already started commercial operations.
Also on rt.com
ZERO new orders for Boeing's troubled 737 MAX after global groundings
Another aircraft, C919, is currently conducting flight tests, while the third, long-range wide-body airliner CR929 is currently being developed by COMAC in cooperation with Russia.
After the US vowed to impose new sanctions on the EU over its subsidies to Airbus, in addition to the already existing Trump tariffs on steel and aluminum, the EU vowed to retaliate. Commenting on the possible European tit-for-tat measures against the US, Le Maire said that Europe has the means to respond to any of Washington's sanctions on EU goods, but said that finding a compromise would be "infinitely preferable."
For more stories on economy & finance visit RT's business section
You can share this story on social media: