Italian banking major to pay hefty US fine for Iran sanctions-busting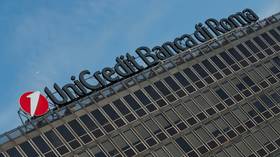 European subsidiaries of Italy's biggest bank UniCredit have pleaded guilty to US charges of violating sanctions against Iran and other countries. The lender has agreed to pay $1.3 billion to settle the six-year probe.
UniCredit's units in Germany, Austria and Italy admitted to illegally moving of hundreds millions of dollars via the US financial system on behalf of sanctioned entities, according to the US Treasury Department. The violations reportedly included sanctions programs against weapons of mass destruction proliferation.
Also on rt.com
French bank pays huge US fine for doing business in Cuba, Iran
The resolution, which is among the largest ever related to US sanctions laws, followed last week's $1.1 billion settlement reached by London-based banking multinational Standard Chartered with American and British authorities over similar misconduct.
The latest case revealed that UniCredit's subsidiary in Germany processed more than 2,000 payments totaling over $500 million through US financial institutions. In addition, over two years through 2012 all the three of the bank's units reportedly carried out transactions, withholding information on sanctioned persons or countries from the US authorities.
The US Treasury Department noted that the illegal cash proceedings were carried out to several states subject to US penalties, including Burma, Cuba, Libya, Sudan, and Syria.
Since 2004, some 15 European lenders paid about $18.5 billion to US authorities to resolve claims over violating Washington's sanctions programs. A record $8.9 billion settlement was reached by French international banking group BNP Paribas in 2015.
For more stories on economy & finance visit RT's business section