American investor Calvey released from Russian jail & placed under house arrest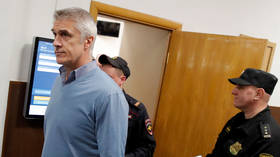 US investor Michael Calvey, accused of embezzlement in Russia, has been released from custody and placed under house arrest, Moscow's Basmanny Court ruled on Thursday.
The fraud investigation of the Baring Vostok founder has also been extended until August 13. The businessman, who is accused of embezzling $37.5 million, was released from custody in the courtroom.
The court's decision was based on Calvey's solid reputation in Russia as well as his investment projects and charitable activities.
Also on rt.com
Moscow court rules to keep US investor Calvey in custody, rejecting appeal
"The investigation established that Calvey has stable social connections in Moscow, a lot of people vouched for him, he has a permanent job, develops investment projects in Russia, provides charitable assistance, including to sick children," said investigator Lyudmila Samoylenko.
She added that the investigation took into account the fact that the businessman has real estate in Russia and three children that depend on him.
"I am ready to assure the court that I will comply with all the conditions of house arrest. I do not ask the court to believe in my innocence and innocence of my colleagues, but I ask the court to believe in my readiness to prove it," Calvey said in court.
"For me, the question of my innocence is a question of my honor, my reputation, which I have been creating all my life. For me, fleeing Russia in connection with a criminal case is tantamount to admitting guilt, tantamount to self-destruction. (...) My whole life is in Russia and everything that I have done over the past almost 30 years is proof of that," he added.
According to Calvey, the criminal case is linked to a business conflict and a "desperate attempt by partners-opponents of Baring Vostok, who chose a strange way of protecting their interests," to escape responsibility for the withdrawal of Uniastrium Bank's assets and to avoid an additional issue with Vostochny Bank's shares.
The American businessman was arrested in February, along with three other executives from his fund, accused of embezzling 2.5 billion rubles ($37 million) from Vostochny Bank via a fraudulent scheme.
According to investigators, Calvey and his associates persuaded the bank's board to accept shares in a company instead of paying off a debt. While the shares were said to be worth over 3 billion rubles ($45 million), their actual value was 600,000 rubles ($9,000).
If found guilty, Calvey could receive up to 10 years in prison along with a fine of up to one million rubles ($15,000).
READ MORE: Arrested US investor faces 10 years in Russian prison for major fraud
The head of the Russian Direct Investment Fund, Kirill Dmitriev, welcomed the court's decision on Calvey's release from custody.
"The ruling by the court to soften the measure of restraint for Michael Calvey, founder and senior partner of Baring Vostok Capital Partners (BVCP), has been positively viewed by our co-investors," he said.
Dmitriev added he will continue efforts on behalf of other BVCP employees who are still in custody.
"I hope that resolution of corporate conflicts in a criminal court will become a thing of the past in Russia," said Dmitriev, adding his organization will continue to work with Baring Vostok on new investments.
For more stories on economy & finance visit RT's business section
You can share this story on social media: