Moscow knows top Baring Vostok businessman as major investor in Russia, alarmed by his arrest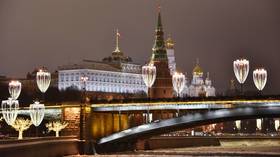 Moscow is "closely following" the news about US businessman Michael Calvey's arrest, the Kremlin said, adding that the case is not political and has nothing to do with Moscow's strained relations with Washington.
The Russian authorities know Calvey as a "major investor…who always championed an idea of a high investment potential of the Russian market," the Russian President Vladimir Putin's spokesman Dmitry Peskov said, following the businessman's arrest.
Calvey, a US citizen, who is the founder and senior partner of Baring Vostok private equity fund, was detained alongside several other suspects last Friday on suspicion of embezzling 2.5 billion rubles (US$37.5 million) from Vostochny Bank via a fraudulent scheme. He was ordered to remain in custody for at least two months by a Moscow district court after his bail of five million rubles was denied.
Also on rt.com
Moscow court orders US investor of Baring Vostok to be held in custody over $37mn fraud allegations
Moscow "is closely following the developments" in this case and hopes that "it cannot and will not affect Russia's investment climate in any way." He also denied that Calvey's case has any links to Russian politics and particularly to the strained relations between Moscow and Washington.
"Russia's relations with other countries have never had any influence on the business activities of foreign investors here," and Russia is and will always be interested in providing comfortable conditions for international investors, he added.
When asked about the Russian president's potential response to the businessman's arrest, Peskov tried to distance Putin from it saying it has nothing to do with the Russian president. "It is the court that will determine his guilt."
Meanwhile, Russia's business ombudsman, Boris Titov, criticized the US investor's arrest and said that the whole case might in fact amount to a corporate dispute and not embezzlement.
Also on rt.com
US investor & top partners of Baring Vostok equity fund detained in Moscow on fraud allegations
"From the open sources, I can see that it is about flawed stock's valuation and it is obviously an economic dispute," he wrote in a commentary for the Russian business daily Vedomosti.
Titov also maintained that the case should be resolved through a court of arbitrage and "has nothing to do with the criminal law." Calvey should not remain in custody during the investigation but should instead be released on bail or put under house arrest. Earlier, Putin also suggested applying such measures to all entrepreneurs investigated in Russia.
For more stories on economy & finance visit RT's business section
You can share this story on social media: