Venezuela wants to sell gold reserves to shore up economy devastated by US sanctions – reports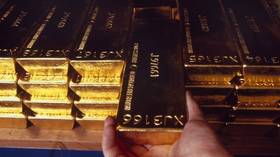 Venezuela has moved eight tons of gold from the central bank in an attempt to raise hard currency to help its cash-strapped economy hit by crippling US sanctions, according to government sources cited by Reuters.
There have been unconfirmed reports that the Venezuelan government has removed around 30 tons of gold from central bank vaults this year. Washington and the government's opposition have accused Caracas of trying to sell national gold reserves abroad. The US has threatened sanctions against any company attempting to buy Venezuelan gold.
Speculation over Caracas trying to sell the gold comes amid the latest round of US sanctions that have severely hit Venezuela's oil sector – a key source of the country's income. Venezuela's substantial gold holdings have become one of the few sources of hard currency, which is crucial for imports with the country's crude sales severely restricted by Washington.
The current reserves of physical gold kept in the vaults of the Venezuelan central bank are estimated at 100 tons, worth over $4 billion, according to an unnamed government source, as cited by the news agency. The source expects the central bank's reserves to be nearly depleted by the end of the year if Caracas continues at this pace.
Venezuela's economic crisis – with six years of a steep recession, hyperinflation, and massive shortages of basic goods – intensified after the country was thrown into political turmoil. In January, Venezuelan opposition leader Juan Guaido proclaimed himself 'interim president', with the US and 53 nations recognizing him as head of state.
With Washington's support, the opposition headed by Guaido is trying to force the resignation of Venezuela's elected president, Nicolas Maduro. They are also trying to freeze the country's assets held abroad, including $1.3 billion worth of gold stored in the Bank of England.
For more stories on economy & finance visit RT's business section
You can share this story on social media: