Shipping capacity of Russian Arctic sea route to top 80 million tons in five years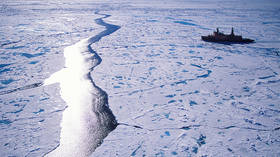 The Russian Minister of National Resources and Environment Dmitry Kobylkin said cargo shipping in Russia's northernmost territorial waters will exceed 80 million tons as soon as 2024.
"We started with five million tons of cargo, and today we see shipments of up to 35 million tons. But the potential capacity is much bigger than this with positive dynamics guaranteed," the minister said in his recent interview with Rossiyskaya Gazeta daily.
According to the official, the bulk of the cargo shipped through the Arctic route is currently implemented by the country's mineral resources sector. Kobylkin urged the government to provide the Arctic with significant state investment.
Also on rt.com
Russia seeks new Arctic oil frontier
"Corporations working in the Arctic surely need state support," the minister said. "The state authorities should shoulder the costs of creating the necessary infrastructure, including dredging operation, building and connecting ports, maintaining air service," Kobylkin said.
"One ruble invested unto the Arctic projects would attract 15 rubles," he added, stressing that other sectors of economy can hardly boast of such returns on investment.
Also on rt.com
Russia, US compete for Asian LNG market share
Last month, the environment ministry released a broad plan on mineral resources perspectives of Russia's Arctic region. The plan, which includes 118 projects, is mostly focused on the processing of liquefied natural gas, oil, condensate, coal and minerals and shipping them along the Northern Sea Route. It also includes proposals on developing such areas as shipbuilding, ecology, tourism and various other industries. The projects will reportedly be implemented by 2030 at a total cost of 10.5 trillion rubles (US$163 billion).
Russia's Arctic provides the shortest maritime route linking the European part of the country with its Far East regions. The route passes through several seas of the Arctic Ocean, including the Barents Sea, Kara Sea, Laptev Sea, East Siberian Sea, Chukchi Sea, and partially the Bering Sea in the Pacific Ocean.
For more stories on economy & finance visit RT's business section
You can share this story on social media: