Oil prices spike to 5-month high as military conflict in Libya escalates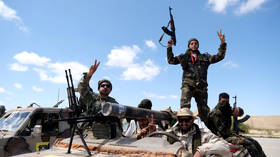 Global crude prices rose to the highest level since last November on Monday, driven upwards by OPEC's supply cuts, US sanctions on Iran and Venezuela, and the escalation of fighting in oil-rich Libya.
On Monday morning, benchmarks Brent and WTI both hit their highest point for this year so far, at $70.76 and $63.48 a barrel, respectively. Brent futures were trading at $70.71 per barrel as of 9:50am GMT, up 0.5 percent from their last close. US West Texas Intermediate (WTI) crude was trading 0.5 percent higher, at $63.40 per barrel.
Also on rt.com
Saudi 'shock therapy' sends global crude prices to 5-month highs
"OPEC's ongoing supply cuts and US sanctions on Iran and Venezuela have been the major driver of prices throughout this year," chief market strategist at futures brokerage FXTM Hussein Sayed told Reuters.
"However, the latest boost was received from an escalation of fighting in Libya which is threatening further supply disruption," he said.
Commodities analyst at Kiwoom Securities in Seoul, Ahn Yea Ha, also said that "supply disruptions in Libya are lifting prices at a time when appetite for risk assets is rising as concerns over global growth ease."
"Oil might be rising too quickly at the moment, but it's hard to find any bearish signals," she told Bloomberg.
Libya was the 20th largest petroleum producer in 2018, with more than a million barrels per day, according to the US Energy Information Administration.
The country remains a fractured land, with no centralized power, ever since the 'humanitarian' NATO intervention and airstrike campaign in 2011 decimated the country's military and helped armed rebels assassinate strongman Muammar Gaddafi.
There are two main competing forces in Libya at the moment: a rather defunct, UN-recognized government in the capital Tripoli and its allied militias, and a rival parliament in Tobruk, supported by Field Marshal Khalifa Haftar's forces, which control most of the country.
Last week, the Tripoli-based government declared an attack "on all frontlines" against the advancing troops of Haftar amid reports of heavy fighting around the city. So far, at least 11 people have reportedly been killed in clashes on the outskirts of Tripoli, even though Haftar's forces have reportedly yet to make any serious move on the capital itself.
The latest fighting is south of Tripoli, away from most of the country's main oil ports and fields. However, analysts warn of growing risks of disruption as the situation deteriorates.
For more stories on economy & finance visit RT's business section
You can share this story on social media: