Boeing cancels 777X launch event after Ethiopian Airlines' MAX 8 crash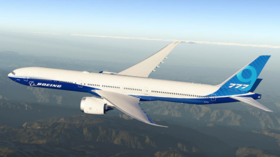 The ceremonial debut of Boeing's 777x wide body aircraft, planned for March 13 in Seattle, will be postponed indefinitely, the company said, following the second deadly accident in just five months involving its 737 Max 8 plane.
"We will look for an opportunity to mark the new plane with the world in the near future," Boeing said in a statement Sunday night, emphasizing that at the moment the company was focused on "supporting" Ethiopian Airlines in the wake of the tragic air accident, which claimed 157 lives.
Also on rt.com
China grounds its 737 MAX fleet after latest-gen Boeing jet suffers 2nd crash in 5 months
The unveiling ceremony at Boeing's Everett Factory was supposed to be attended by top executives and numerous honored guests, who were more-than-eager to see the presentation of the "largest and most efficient twin-engine jet in the world."
Designed to build on the success of the 777 and 787 Dreamliner series, the plane is being assembled to replace the current generation of retiring 747 fleets. Production of the first 777X test model began in 2017, with first deliveries scheduled for next year. Once operational, the plane is expected to sell for at least $360.5 million.
Also on rt.com
Fatal flaw made Lion Air flight nosedive 20+ times before deadly crash in Indonesia, report finds
Boeing's plans, however, were thrown into disarray on Sunday, when Ethiopian Airlines Flight 302 crashed just six minutes after takeoff from Addis Ababa en route to Nairobi, Kenya. All 157 people on board, mostly foreigners, were killed in the incident. Following the tragedy, Boeing announced that it will dispatch an investigative team to the crash site to provide technical assistance. The 737 MAX was only four-months-old when the jet allegedly demonstrated "unstable vertical speed" during its takeoff. The official cause of the crash is not yet known.
Sunday's disaster was the second recorded crash of the brand new Boeing narrow-body aircraft. In October, a Boeing 737 MAX 8 operated by Lion Air crashed minutes after taking off from Jakarta, Indonesia, killing all 189 passengers and crew. That crash is also under investigation.
Despite the cancelation of the inauguration ceremony, the 777X's development program will proceed on-schedule, the company said.
Like this story? Share it with a friend!
You can share this story on social media: