Bitcoin falls below $5,000 for 1st time since 2017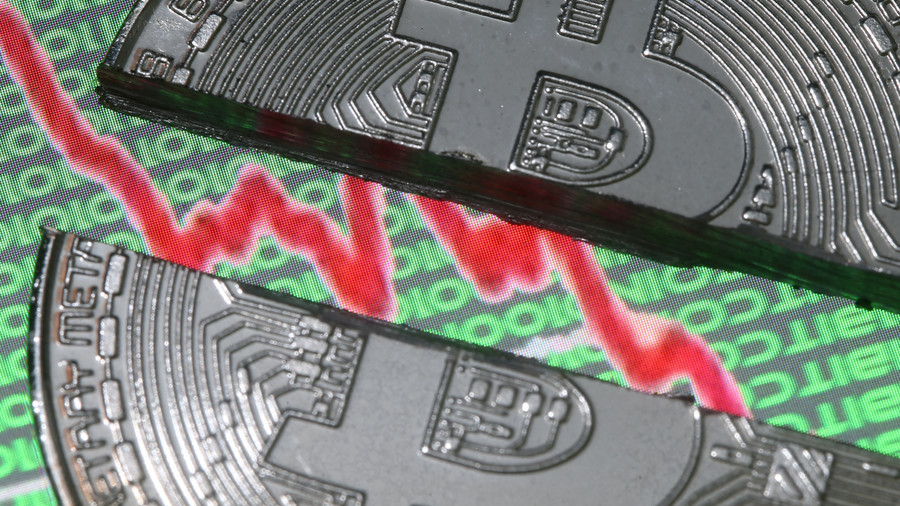 Bitcoin has dropped below $5,000 for the first time in over a year as cryptocurrencies' wholesale freefall continued, as investors fearing new regulations sell up their virtual holdings.
Bitcoin fell to as low as $4,960 on Monday, the eighth consecutive day of losses for cryptocurrency token, and the second low-water mark in days. Last Wednesday, the ten-year-old token dropped 11 percent in a single day of trading, dipping below $6,000 to its lowest price in a year.
READ MORE: Cryptocurrency mining may kill Earth faster than coal mining, study finds
After an unprecedented speculation bubble saw bitcoin touch $20,000 in December 2017, the coin's value has nosedived in volatile trading over the following months. The virtual currency has enjoyed a period of relative stability since early September, hovering between $6,000 and $7,000.
Bitcoin's decline over the last 24 hours alone saw its market capitalization fall by more than $14 billion.
Some critics see US government regulation as fuelling the mass selloff. The Securities and Exchange Commission (SEC) released a statement on Friday saying that it would require some companies holding ICOs (Initial Coin Offerings) – the cryptocurrency world's equivalent of an Initial Public Offering – to treat their coins as securities, meaning that investors could sue the companies if the coins then crashed.
The agency recently settled with two companies, Paragon, and Carrier EQ, requiring them to pay $250,000 in penalties each, and offer investors a chance to request a refund for their tokens.
The SEC announcement, coupled with bitcoins precipitous decline, sent shockwaves through the crypto world, driving down the value of almost every alternative coin, including Ethereum, Bitcoin Cash, Litecoin, and Ripple.
The SEC's willingness to crack down on ICOs is not the only factor that could be pushing bitcoin down. As bitcoin plunged below $6,000 last week, it's possible that stop-loss orders were automatically going into effect and investors were "trying to play the breakout," eToro Senior Market Analyst Mati Greenspan told CNBC.
He added that another "contributing factor is the selloff in tech stocks, which could be having a spillover effect into crypto markets."
A 'hard fork' that split Bitcoin Cash into two coins – Bitcoin Cash and Bitcoin Cash Satoshi Version – late last week could also be having an effect. The two blockchains are now fighting for dominance, with miners directing power away from bitcoin and into these two warring currencies.
Think your friends would be interested? Share this story!
You can share this story on social media: