Japan finds itself buried in plastic waste after China stops importing world's trash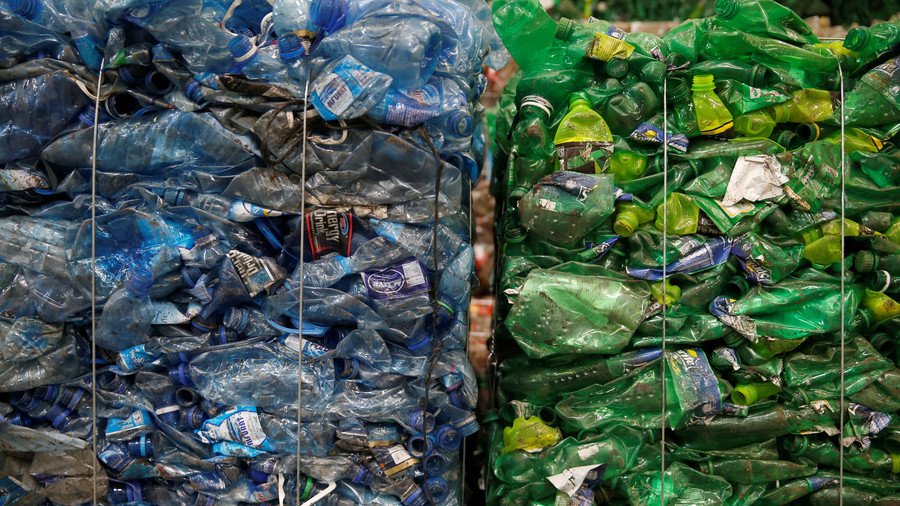 Nations across the globe are beginning to suffer from waste build-up, after China stopped importing recyclable garbage this year. Japan has become the latest country reporting severe recycling industry overload.
China's ban on imports of 24 types of solid waste materials, such as soda bottles, mixed paper, recycled steel and newsprint, has impacted the recycling chain across the globe. Japan, which last year exported about half of its 1.5 million tons of annual plastic waste, is now piled higher and deeper in its own garbage, with many local governments struggling to cope with the problem.
About a quarter of 102 local governments surveyed reported seeing accumulated plastic waste, which in some cases overreached sanitary norms, Environment Ministry data showed this week. At least 34 municipalities noted that they are failing to find new destinations to outsource their plastic after domestic costs of processing waste shot up.
China's refusal to accept more garbage is overstretching the Japanese recycling industry, with 34.9 percent of companies limiting or considering restricting the quantities of plastics they can accept. To deal with the problem, the Japanese ministry said it will expand domestic capacity to process plastic waste. The government also wants to introduce measures to prevent illegal dumping and expand the use of bioplastics, which are biodegradable.
A similar problem was reported this weekend in the UK, which last year exported roughly two-thirds of its recyclables. The Local Government Association (LGA) blamed the Chinese ban for the change in councils' recycling methods which are forcing the local authorities to add an extra £500,000 a year in cost. "It's clear that the ban by China on imported waste, which could soon be implemented by other countries, could have a marked impact on councils' ability to recycle," said Martin Tett, environment spokesman for the LGA.
China, which over the last 25 years was taking in 45 percent of cumulative plastic imports, without a doubt made a huge impact on the global recycling system. While many Chinese companies relocated their operations to Malaysia, the Asian country does not have the capacity to replace China and this week imposed a three-month ban on imports. We "will do our very best to ensure that Malaysia not be the plastic rubbish bin of developed countries," Science, Technology and Environment and Climate Change minister Yeo Bee Yin said.
READ MORE: China's waste import ban fallout: EU wants to get rid of most single-use plastic products
Vietnam, which once welcomed foreign shipments, is also finding it hard to cope with recyclables, imposing a temporary ban on imports between June and October. Thailand, the other world destination of plastic goods, reportedly will ban imports by 2021. The closure of Asian countries to plastic will also affect the US, which in the first six months of this year, exported its recycling to Thailand, Malaysia and Vietnam.
For more stories on economy & finance visit RT's business section
You can share this story on social media: