Two killed after armed militants storm Libya's state oil corporation HQ in Tripoli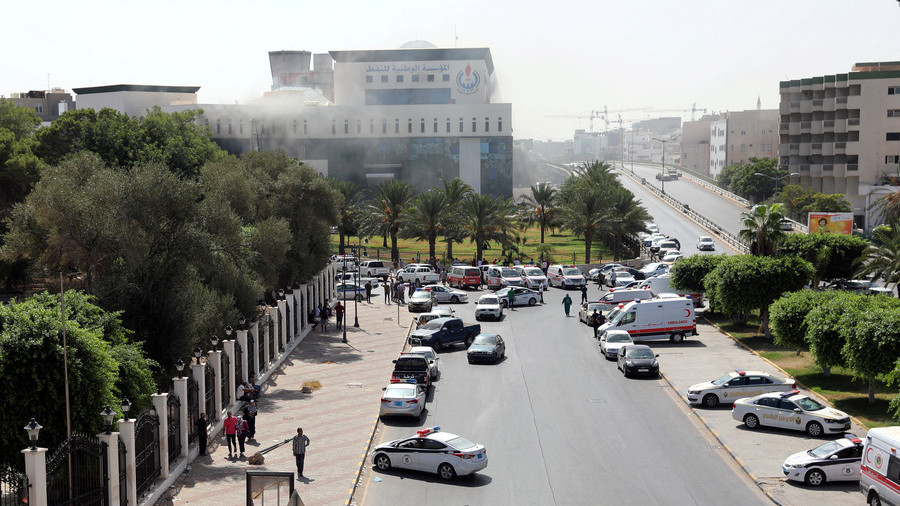 Two workers at Libya's National Oil Corporation (NOC) have been killed after a militant attack on the company's headquarters in Tripoli on Monday, according to local law enforcement. They say two of the attackers were also killed.
"The death toll so far is two killed from NOC staff and two attackers," Ahmed Ben Salim, a spokesman for the Special Deterrence Force, told Reuters.
Earlier on Monday, witnesses reported hearing explosions and gunfire, with smoke rising from close to the NOC offices. Security officials said they were attempting to deal with militants attacking the building.
Security forces took up positions around the offices in central Tripoli, while surrounding roads were cordoned off. Witnesses said they saw ambulances leaving the site. A member of staff from a hotel next to the NOC offices said that he had heard around five blasts.
Tripoli has been shaken by clashes between rival armed groups since the beginning of this month. The capital has also seen occasional militant attacks.
In May, Islamic State claimed responsibility for a deadly attack on the National Election Commission offices in Tripoli.
Libya's oil production has plunged since the overthrow of long-serving ruler Muammar Gaddafi in 2011. The country has been torn apart by civil war with rival factions vying for power.
Libya's two rival governments were set up in 2014 in the aftermath of the three-year civil war. The UN-recognized Tripoli government is led by Fayez Sarraj - a former member of the Tobruk Parliament. The second center of power is the Libyan National Army (LNA) under the command of Khalifa Haftar, who styles himself as a strongman capable of ending the chaos of armed factions that has gripped the country since Gaddafi's overthrow.
In June, the LNA recaptured four ports in the oil crescent in the east from armed groups after a week of fighting, handing their control to an unrecognized oil company.
The renegade government's efforts to sell oil through a parallel oil company have been blocked by Western countries. Haftar agreed to hand back control of the ports to the internationally recognized NOC.
The port closure had blocked 850,000 bpd of Libya's oil (nearly all Libya's oil production) from being exported from the four ports for more than two weeks.
Libya's revenue is heavily dependent on oil exports. Years of conflict have slashed output to 550,000 barrels per day in June from the 1.6 million bpd it pumped before the 2011 civil war.
For more stories on economy & finance visit RT's business section