Going green: China's shift to natural gas will send coal prices crashing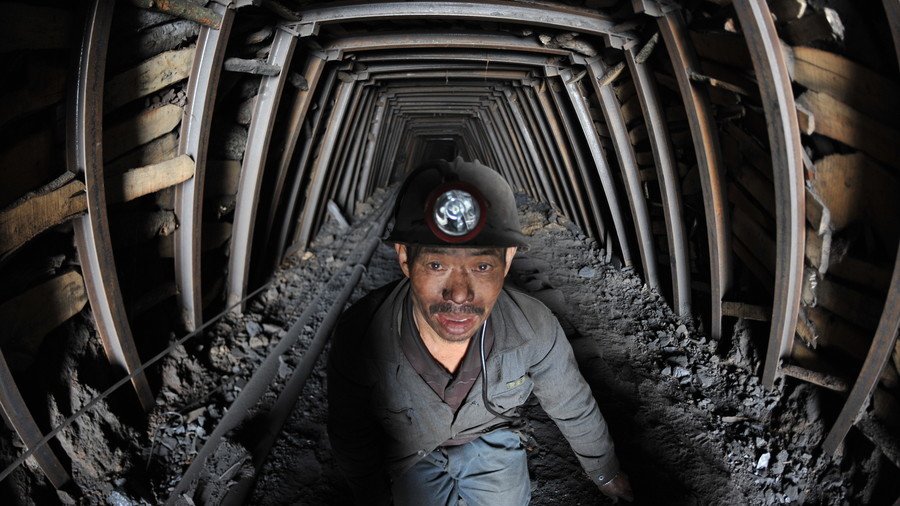 Chinese authorities have approved an extended program aimed at significantly curtailing coal consumption across the country. The move to cleaner energy will have a serious effect on the entire coal industry.
According to the plan, within three years coal consumption across 82 China's cities will be slashed by up to 10 percent against the numbers fixed in 2016. Beijing is set to transfer housing and utilities infrastructure and the power supply sector from coal to gas.
The move will definitely lead to a drop in global prices for coal by 2020-2021, according to Director of the Center for Economic Forecasting at Gazprombank Airat Khalikov, as quoted by Russian business daily Vedomosti.
Average price for coal was hovering at around $103 per ton in the first six months of the current year. After the reduction of coal consumption by China, which is the world's number one consumer and producer of the fossil fuel, global prices will drop to $52–69 per ton, media reports.
Last year, China imported some 188.3 million tons of bituminous coal, coal bricks and rolls, 2.7 percent more against the previous year, according to the country's customs statistics. Costs of imports grew by 60.8 percent to $18.57 billion with the average price per ton reaching $99.
Australia became China's number one coal supplier, exporting 79.91 million tons to the country in 2017, boosting revenues by 75.8 percent to $9.87 billion. Indonesia sold 35.28 million tons of coal to China, earned $2.47 billion – 20.9 percent more than in 2016. Exports of coal from Russia increased by 36.3 percent to 25.31 million tons, while export revenue grew by 99.2 percent to $2.23 billion.
The average price of coal from Australia totaled $124 per ton, Indonesia sold coal to China at $70 per ton, while Russian coal cost the country $88 per ton. China also imported 3.17 million tons of coal from the US at an average price of $143 per ton.
China's move towards curbing coal consumption is reportedly in response to environmental concerns and a declining coal industry in the country. China, the world's second-biggest natural gas buyer, is expected to account for at least a quarter of all global gas consumption growth between 2015 and 2040, the US Energy Information Administration says.
For more stories on economy & finance visit RT's business section
You can share this story on social media: