Escalating trade war between US & China sends shock waves through markets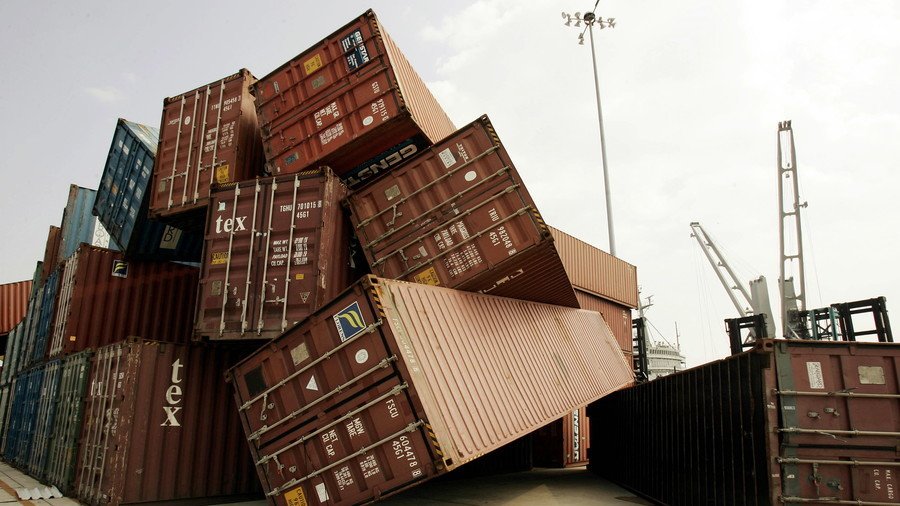 Global stocks crashed on Tuesday after US President Donald Trump threatened another 10-percent tariff on $200 billion of Chinese imports in response to Beijing's retaliation for the previous package of levies imposed by the US.
China vowed to protect its interests, countering any US tariffs imposed on its goods with a mirror response.
"This practice of extreme pressure and blackmail" will be met with other comprehensive quantitative and qualitative measures, the country's Commerce Ministry warned.
"The United States has initiated a trade war that violates market laws and is not in accordance with current global development trends," it added.
Last week, Washington announced tariffs on 1,102 separate categories of Chinese products, to come into effect on July 6. Beijing immediately retaliated with a 25-percent tariff on 545 American products worth $50 billion, which will come into force on the same day. Chinese authorities also pledged to add another 114 product categories to the existing list.
The growing trade spat between Beijing and Washington has dragged global markets down as investors opt to get rid of riskier assets. China's stock market dropped 2.7 percent, while Japan's Nikkei ended down by 1.7 percent.
The Hong Kong Hang Seng index lost 2.8 percent as Shanghai Composite dropped 3.78 percent. The Indian NIFTY 50 fell by 0.68 percent.
European stocks slid as well, with the FTSE 100 hitting a six-week low in early trading. The German DAX dropped 1.66 percent, while the French CAC 40 fell by 1.18 percent. Miners' shares were among the big losers, with Anglo American down three percent. Anglo-Swiss multinational Glencore is down 2.6 percent, while British technology firm Micro Focus also shed nearly three percent.
US stocks are set to open lower on Tuesday with Dow futures indicating heavy losses of over 300 points. The Nasdaq and the S&P 500 futures are also pointing lower before the opening bell.
American corporate giants that rely on huge revenues from business in China, such as Boeing, Caterpillar, Intel and 3M, are among the biggest losers on the Dow.
For more stories on economy & finance visit RT's business section
You can share this story on social media: