No negotiations under threat: Warning from Juncker to Trump on US trade tariffs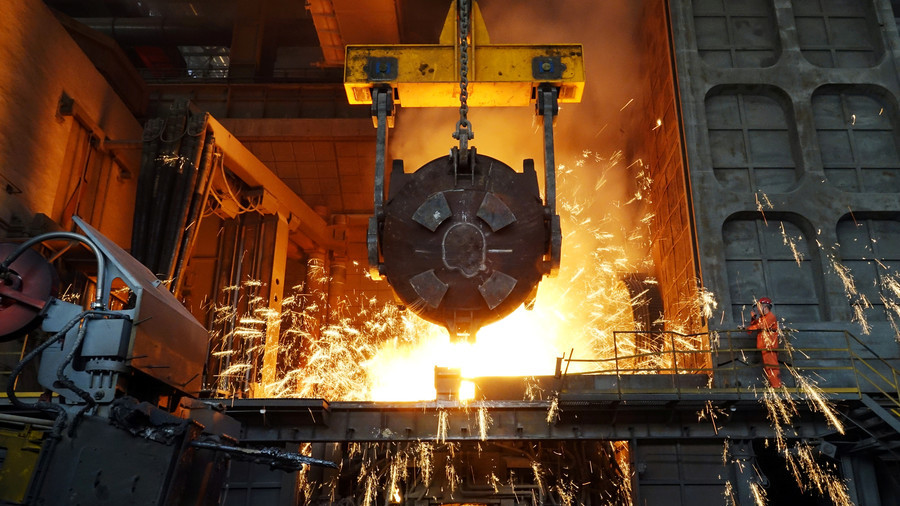 The European Union will not accept threats from the United States in the talks to secure a permanent exemption from US tariffs on steel and aluminum, European Commission President Jean-Claude Juncker has said.
"I would like to reiterate the call that this exemption be made unconditional and permanent," Juncker said as he presented the EU's budget at the European Parliament in Brussels on Wednesday.
Donald Trump's decision in March to impose a worldwide 25 percent tariff on steel imports and a 10 percent tariff on aluminum "cannot be justified on the basis of national security," he said as cited by AP. The situation in which Washington and Brussels find themselves on the brink of a trade war "should not happen between allies," the Commission's head stressed.
"We will continue our negotiations with the US, but we will refuse to negotiate under threat," Juncker said. The statement came a day after Trump prolonged the temporary exemption for the EU for another month, until June 1.
EU hopes of a swift resolution to the tariff standoff with the US will most likely be in vain, Jeffrey Tucker, editorial director at the American Institute for Economic Research, told RT.
"Trade war is what he [Donald Trump] intended from the moment he put his hand on the Bible and took the oath of office," Tucker said, adding that the US President is only interested in creating new conflicts instead of resolving the old owns. He described Trump as "a convinced economic nationalist, who really believes in his heat that if he can create an American national machinery production that's not dependent on Europe, Canada and the rest of the world – that this will somehow be good to America."
"Donald Trump believes in zero sum kind of world – it's like either America wins or America loses," the expert said. However, according to Tucker, if the trade war between the US and EU breaks out producers and consumers on both sides will be among the losers.
READ MORE: EU was created to rip US off, Trump says as allies brace for trade war
The European Commission said in a statement on Tuesday that the US decision of just a month-long extension "prolongs market uncertainty, which is already affecting business decisions."
Earlier, the block warned that it may retaliate against the US tariffs by imposing its own $3.5 billion tax on American goods, including jeans, motorcycles and orange juice.
Think your friends would be interested? Share this story!