Grumpy Cat wins $710,000 payout in copyright dispute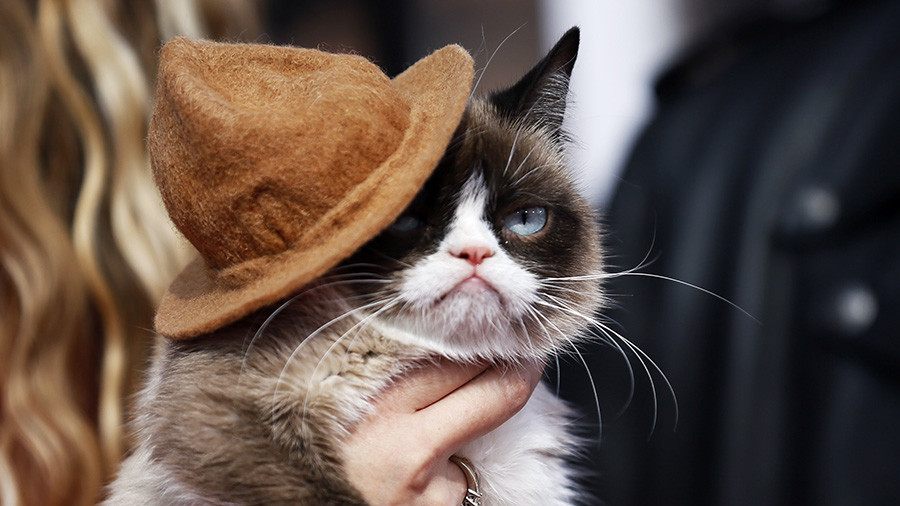 The owners of the world-famous cat, which became an internet sensation due to its gloomy expression, have won a copyright dispute over the use of their kitty's name and image.
A California federal jury has ordered US coffee company, Grenade, to pay $710,000 in damages for copyright and trademark infringement, as well as a $1 nominal damage fee for breach of contract. In 2013, Grenade's owners struck a $150,000 deal to serve iced-coffee beverages branded with the cat's face called "Grumppucinos."
According to a lawsuit filed in 2015, the company had "blatantly infringed" copyrights and trademarks when launching a whole line of Grumpy Cat products like ground coffee and t-shirts featuring its face.
"Ironically, while the world-famous feline Grumpy Cat and her valuable brand are most often invoked in a tongue-and-cheek fashion, [the] defendants' despicable misconduct here has actually given Grumpy Cat and her owners something to be grumpy about," said the initial complaint.
The coffee chain's owners countersued, claiming Grumpy Cat had not held up their end of the deal to promote the drinks on social media. They also complained they were told the cat would be appearing in a film alongside Will Ferrell and Jack Black, which did not happen.
Grumpy Cat, whose real name is Tardar Sauce, went viral in 2012 after photographs of her permanently sour expression emerged online. The gloomy face is said to be caused by feline dwarfism and an underbite. The image of the cat quickly spread as a meme with funny text captions.
A lawyer representing Grumpy Cat said that the jury's verdict could set a legal precedent. "It's the first verdict ever rendered in favor of a viral meme," David Jonelis told The Wrap, adding that "memes have rights too."
The six-year-old cat has a company in her name, as well as a range of merchandise, including clothing, calendars and soft toys.
For more stories on economy & finance visit RT's business section
You can share this story on social media: