French group demands Russia repay €53bn imperial debt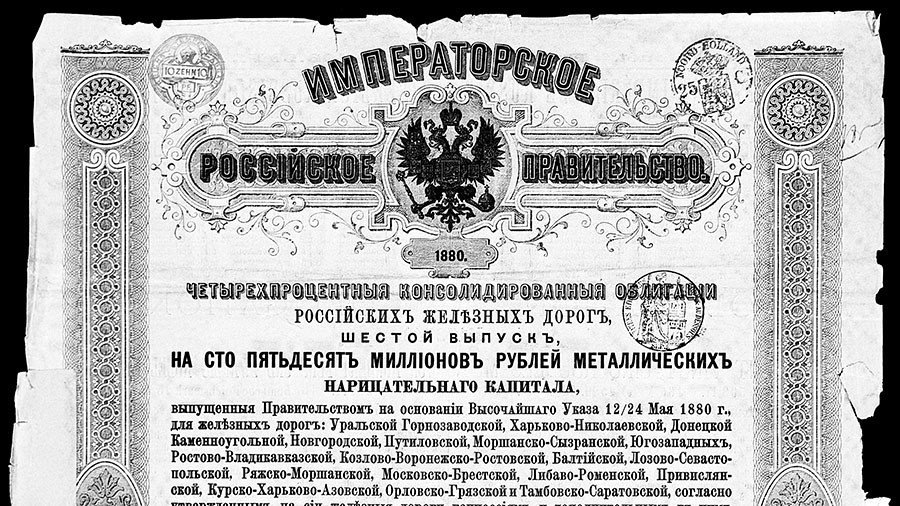 A group of French citizens holding eurobonds issued by the Russian Empire in the 19th century is demanding the Kremlin repay the debt, says a report by Radio France Internationale (RFI).
In 1867, Russian Railways launched government bonds guaranteed by gold. They were worth a total of 15 billion francs, the equivalent of €53 billion (US$65 billion) today. Now, 400,000 descendants of the investors are demanding repayment, according to the RFI.
After the socialist revolution in Russia, Vladimir Lenin issued a decree to write off the debts of the Russian Empire.
However, the descendants of French bond buyers are highly unlikely to get a cent from Russia. In 1996, Paris and Moscow signed an accord to write off the tsarist debt. Russia agreed to pay $400 million in $50 million tranches. Many economists have said it is roughly 2 percent of what the Russian Empire owed to French investors.
It was a similar story with the UK even before the collapse of the Soviet Union. In 1986, Mikhail Gorbachev signed an agreement with Margaret Thatcher on the settlement of the state debt of pre-revolutionary Russia. The UK pledged to pay its citizens who owned bonds of the Russian Empire, a compensation at the expense of 5.5 tons of gold belonging to Tsar Nicholas II, stored in British banks.
Last year, Russia repaid the balance of Soviet-era debt by sending $125.2 million to Bosnia and Herzegovina.
For more stories on economy & finance visit RT's business section
You can share this story on social media: