Disgruntled businessman pays debt with 4.7 million coins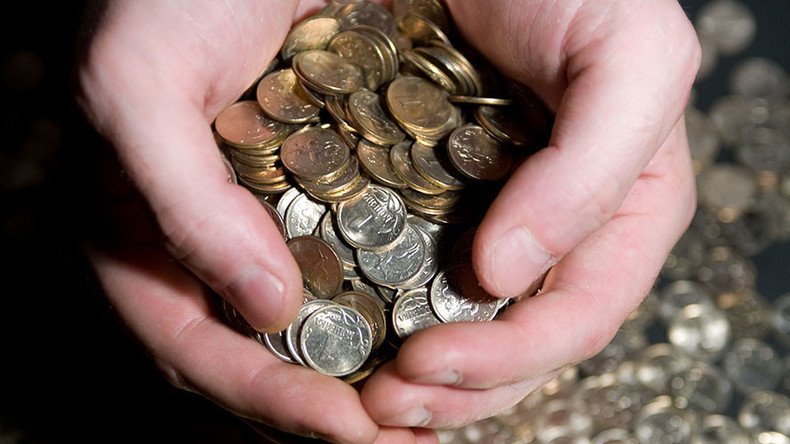 A frustrated businessman in the Russian city of Kirov has paid his 46,700 ruble (around $790) insurance premiums debt to the bailiffs in a total of 4,670,000 kopeks, which are the country's smallest coins.
The Federal Bailiff Service (FSSP) said that the debtor had to make several runs through the security desk at the entrance to deliver the money.
To repay "the debt, he brought in [six or seven] heavy bank sacks and a carton from Chupa Chups candy full of one kopek coins," the FSSP said in a statement.
One ruble consists of 100 kopeks, meaning that the unnamed businessman used 4,670,000 coins to play his debt of 46,700 rubles.
According to the bailiffs, the man performed the stunt to show off his frustration with the state over the arrears.
"In conversation, the debtor confirmed that he deliberately broke the money into small coins to complicate things for the state in the face of the Federal Bailiff Service," the statement read.
However, FSSP stressed that the emotions of the businessman "made no impression" on the bailiff, who was handling the case, as the payment was accepted.
Several employees had to count the coins and the debtor was forced to remain in the office until they finished, it added.
READ MORE: Orthodox clergy claim new Ruble sign like Christ's
The Federal Bailiff Service said that it accepts coins and banknotes of any denomination as debt payments, adding that the most comfortable solution is to pay through the agency's website.
In January 2016, a transport company in Russia's Nizhny Novgorod Region paid its 100,000-ruble debt in various coins, which ended up weighing around 300 kilograms.
You can share this story on social media: