Russia wants to include Serbia in EEU free trade zone - Putin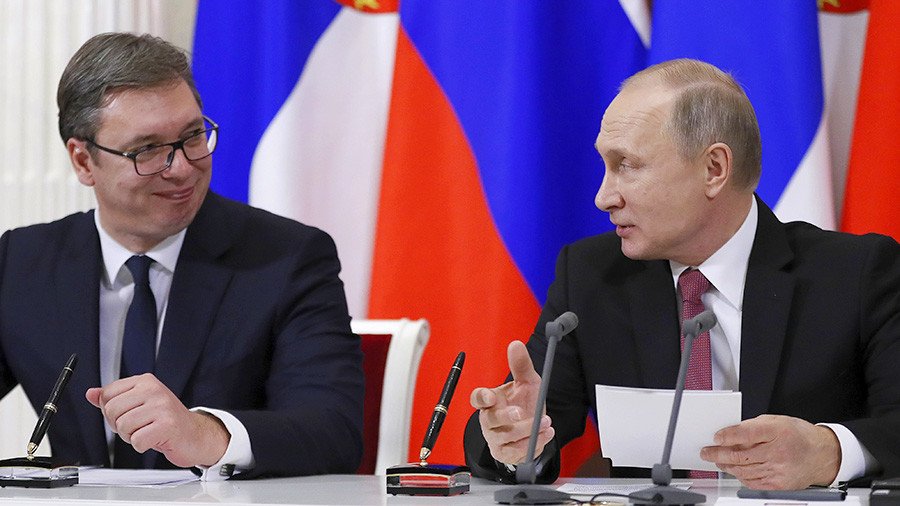 Including Serbia in the free trade zone of the Eurasian Economic Union (EEU) could open new opportunities for development of business links, according to Russian President Vladimir Putin who added discussions are underway.
Russia and Serbia are strengthening cooperation, particularly regarding transportation infrastructure, said Putin after meeting with Serbian counterpart Aleksandar Vucic. The sides also want to improve banking cooperation according to the Russian president.
Putin said Moscow and Belgrade are exploring the possibility of connecting Serbia to the Turkish Stream gas pipeline. He said Russian energy companies are working successfully in the Serbian market and deliveries of Russian natural gas to the country could reach 3.5 billion cubic meters by 2022.
"Volumes of supplies [of Russian gas to Serbia] increased by a quarter and are over two billion cubic meters," said Putin.
The EEU is a trade bloc established in 2015 based on the Customs Union of Russia, Kazakhstan, and Belarus. It was later joined by Armenia and Kyrgyzstan. In 2016, Vietnam officially became the first non-regional country to join the bloc which is designed to ensure the free movement of goods, services, capital and worker between member countries.
READ MORE: EU and Moscow–led economic bloc should develop free trade – Hungarian PM
More than 40 countries and international organizations, including China, Indonesia, and Iran, as well as some South American countries, have expressed interest in a free trade deal with the EEU. The trade bloc has also held negotiations with South Korea, Egypt, Iran, and India.
You can share this story on social media: