Rivals will 'inevitably' replace American firms blocked from Russia by US sanctions – Putin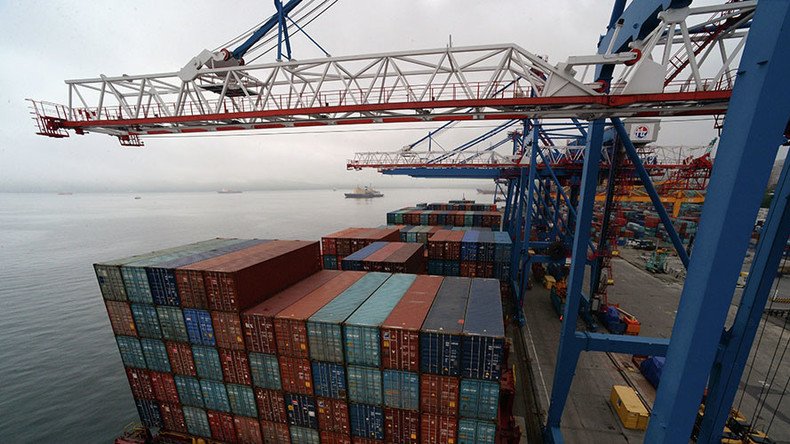 While US sanctions on Moscow prevent its firms from teaming up with Russia, other foreign companies will "inevitably" fill the gaps in the Russian market, Vladimir Putin warns. The Russian leader, however, holds out hope for "balanced" bilateral relations.
"By banning ExxonMobil from working in our Arctic, [the US] only deprived it from an interesting, promising project, that could have boosted the US economy and created more jobs in the US, bringing in revenues and taxes," the Russian president told reporters on Saturday at a press conference at the APEC summit in Vietnam. Adding that the oil giant is just one case among others, Putin warned: "Your [US companies'] place will be taken over by rivals. It is inevitable in the modern world."
Saying that "everyone wants to work in Russia," President Putin noted that the majority of businesses that attended the St. Petersburg International Economic Forum (SPIEF) in June were from the United States.
Although relations are still "in a state of crisis," Moscow is ready "to turn the page and move on, look into the future and solve problems important both to the people of the US and Russia." Putin expressed hope for cooperation within the "sphere of security, and of economic interaction, which has dropped to virtually zero."
READ MORE: US sanctions against Russia could backfire on American energy firms
In 2011, former Exxon CEO Rex Tillerson clinched a deal with Russian state-owned oil company Rosneft, paving the way for exploration in the Russian Arctic, the Black Sea, and Siberia. However, US sanctions imposed on Russia over the Ukraine crisis forced Exxon to suspend its cooperation, costing the company up to $1 billion in losses.
You can share this story on social media: