On the same page? Putin & Trump cross paths at APEC and chat cordially (VIDEO)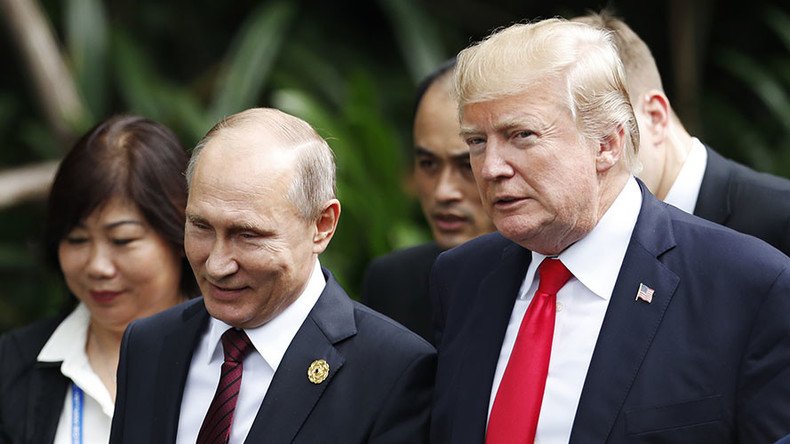 With tensions between Russia and the US not letting up, the nations' presidents did not give each other the cold shoulder as they crossed paths at the APEC summit in Vietnam on Saturday. The two leaders chatted amiably with each other.
Russian President Vladimir Putin and US President Donald Trump had a cordial chat on their way to a group photograph of summit leaders. The pair later stood next to each other in the second row for the photo.
All eyes were on Trump and Putin again as the two leaders bumped into each other at the APEC meeting on Saturday. They patted each other on the back several times, and Putin whispered something in Trump's ear. The US leader listened attentively and gave a sly smile, as though he was told a good joke, leaving others to guess what it might have been that they discussed.
Putin told journalists on Saturday that the absence of a separate, official meeting with the US president at the APEC summit further proves that there is an ongoing crisis in relations between the two nations.
"It means that US-Russia relations are still in a state of crisis," he said. Moscow is, however, ready "to turn the page and move on, look into the future and solve problems important both to the people of the US and Russia," including issues within the "sphere of security, and of economic interaction, which has dropped to virtually zero."
Asked whether he experienced Trump's trademark "habit" of welcoming word leaders with intense handshakes, the Russian leader replied: "I know nothing about his habits, we are not so well acquainted, but the US president conducts himself in the best possible way, appropriately and friendly."
Both the Kremlin and the White House gave conflicting reports on the possibility of a meeting between the two leaders, before eventually stating that there will not be an official meeting this time around. Nonetheless, Putin and Trump met and shook hands at a dinner on Friday night, and again at the start of the main meeting of Asia-Pacific Economic Cooperation (APEC) leaders on Saturday.
Eyebrows were raised when Secretary of State Rex Tillerson questioned the necessity of the Russian and US presidents sitting down for a meeting. "The view has been if the two leaders are going to meet, is there something sufficiently substantive to talk about that would warrant a formal meeting?" he told a press briefing in Beijing on Thursday. Tillerson's statement comes at a time when US-Russian relations have reached one of the lowest points in decades.
On Saturday, the two leaders agreed on a joint statement confirming their commitment to Syria's sovereignty, independence, and territorial integrity. "Moscow and Washington agree there is no military solution to the conflict," the text of the joint statement, published on the Kremlin's website, said. Putin and Trump have called on all parties to the Syrian conflict to "take an active part in the Geneva political process and support efforts aimed at ensuring its success."
You can share this story on social media: