Russia & Japan ink over 50 agreements at EEF 2017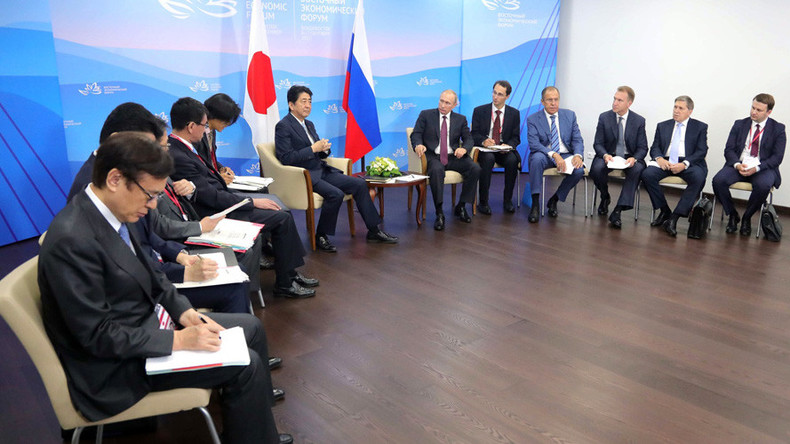 Official pens are running dry after more than fifty agreements, and memoranda were signed by Moscow and Tokyo, following President Vladimir Putin's meeting with Japanese Prime Minister Shinzo Abe at the Eastern Economic Forum in Vladivostok.
The deals promote Japanese investment in Russia's Far East, business agreements, and closer social cooperation.
Among the documents signed a memorandum of understanding between the authorities of Russia's Primorsky Territory, the Agency of the Far East for attracting investments and supporting exports, Japan's JCG Corporation and Hokuto Social Healthcare Corporation.
The Russian Eurochem Group and Japan's Mizuho Bank have sealed a loan agreement.
The largest producer of power generating coal in the Sakhalin region, the East Mining Company, signed a memorandum of understanding with Japan's Marubeni Corporation.
Construction of a new gas chemical complex in the Russian Kemerovo region was agreed between SDS Azot and Sojic Corporation, and Mitsubishi Heavy Industries.
The Russian Direct Investment Fund and the Japanese Bank for International Cooperation have agreed to start a $1 billion investment fund.
Russian Railways, the Agency of the Far East, and the Japanese Ministry of Health signed a memorandum on medical cooperation.
Russian Transmashholding and Japan's Hitachi have inked a memorandum of intent to establish a joint venture in Russia to produce traction systems for passenger rail transport.
Japanese businesses are reportedly considering investing in Russian auto industry, pipe production, and agriculture.