Ex-Chancellor Schroeder brushes aside criticism over joining Rosneft board
Published time: 31 Aug, 2017 13:33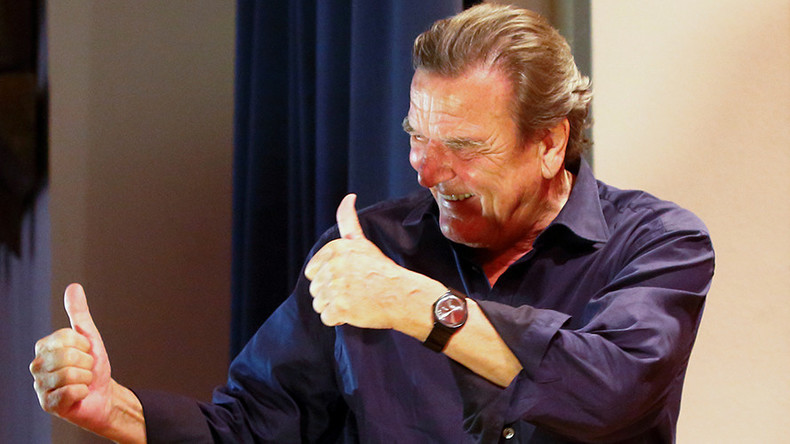 Former German Chancellor Gerhard Schroeder said he'll go ahead with plans to join the board of Russian oil major Rosneft. The move has been sharply criticized in Germany ahead of the upcoming federal election.
"I will do this. This is about my life, and I decide – not the German press," said Schroeder as cited by German news agency DPA, adding that he couldn't see a problem and was not going to allow anyone to make it into one.
Chancellor Angela Merkel and the leader of Schroeder's own center-left Social Democrats, Martin Schulz, both strongly disapprove of Schoeder's nomination to the Rosneft board.
Rosneft along with other Russian companies became the target of Western sanctions over Moscow's alleged role in the Ukrainian conflict. The firms are banned from accessing technology for oil and gas projects.
Schroder is expected to be elected to the board at the end of September, and responded to his critics, saying that they were trying to push Germany into a "new Cold War."
The ex-chancellor stressed German newspapers falsely portrayed the company.
"Imagine if I had been proposed not for a Rosneft board position but Exxon in America. Nobody would ask my true motives," Schroder said at an election campaign event for the Social Democrats (SPD) in the northern town of Rotenburg.
"It is the largest oil company in the world, with important links to Germany. It is not the long arm of the Kremlin. They are the majority shareholder, but BP is a shareholder - not a small shop. Qatar is a shareholder," he added.
READ MORE: EU policy to blame for Ukraine crisis - Ex-Chancellor Schroeder
Schroeder has been previously called "Gazprom Gerd" for his relations to with another major Russian energy company. He joined the Nord Stream pipeline consortium controlled by the corporation after he was not re-elected chancellor in 2005.