Siemens to suspend contracts with state-owned Russian companies over turbine deliveries to Crimea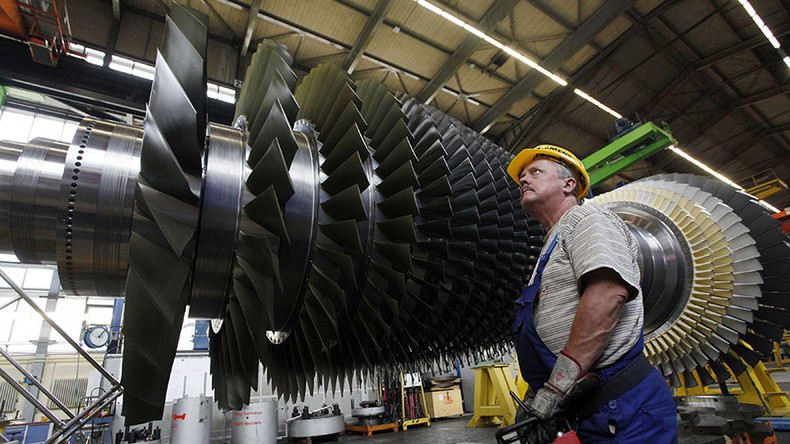 German conglomerate Siemens is halting the implementation of certain projects with Russian companies partly owned by the state after discovering that four turbines were "illegally" shipped to Crimea, a company statement reads.
Siemens is not allowed to do business in the Crimea. The Russian region faces sanctions from US, EU and its allies since it broke away from Ukraine in 2014.
The German company says the equipment was manufactured and intended for a project in the south of Russia and was not intended to be transferred to the Crimean peninsula. However the Black Sea territory is part of the Russian Federation.
"Siemens will halt power generation equipment deliveries from existing contracts to state-controlled customers in Russia for the time being. During that time, Siemens is implementing an additional controls regime that is exceeding legal requirements by far," the company said in a statement.
The concern added it will fully divest its minority interest in the Russian company Interautomatika, which offers products and services for power-plant instrumentation and control systems. Siemens has also initiated the termination process of a license agreement with Russian firms in the area of equipment supply for combined-cycle power stations.
READ MORE: Siemens sues Russian partner over delivery of turbines to Crimea
"Siemens continues to pursue criminal charges against the responsible individuals at our customer, TPE, as well as legal actions that are intended to halt any other deliveries to Crimea and ensure that any equipment that has already been dispatched is returned to its original destination, Taman," the statement added.
The turbines were made by Siemens Gas Turbine Technologies LLC, based in Russia's St Petersburg. It is 65 percent owned by the German company and uses Siemens technology.
The company also says it wants to buy back the turbines and announced they plan to cancel the contract for their delivery.
"New business engagements in gas turbine power generation equipment in Russia will be solely executed by its majority-owned SGTT joint venture and its wholly-owned subsidiary, OOO Siemens, Moscow," Siemens said, adding that "all new engagements would be subject to the new, permanent control mechanism."
Kremlin spokesperson Dmitry Peskov refused to comment on the Siemens statement, telling journalists "it's a question for the companies involved."
After reunification with Russia, Crimea faced problems with electricity because nearly all of its power came from Ukraine. In November 2015, the peninsula declared a state of emergency as four Ukrainian power lines providing electricity to the region were blown up, leaving Crimea in a total blackout.
Russia reportedly needs four turbines for new power stations on the Crimean peninsula. Two of the turbines are for a power plant in Sevastopol, and the other two for a plant under construction in Simferopol.
You can share this story on social media: