US lifts laptop ban on flights from Middle East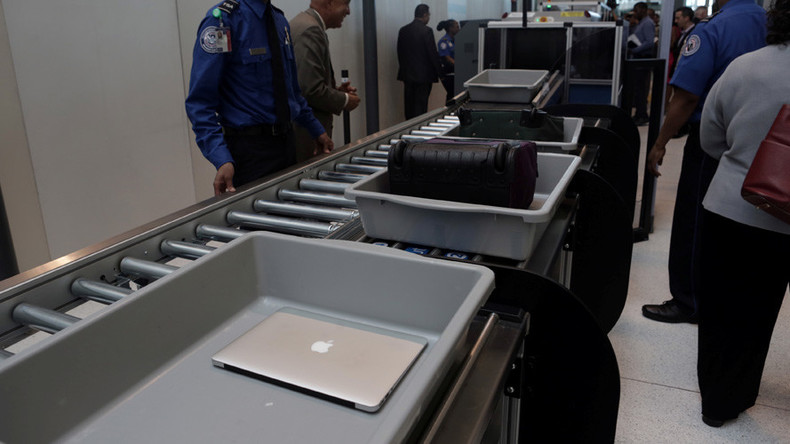 The United States has ended the laptop ban on US-bound flights from certain airports in the Middle East and North Africa, according to the US Department of Homeland Security (DHS).
Saudi Arabia's King Khalid International Airport was the last of the ten airports to be exempted from the ban.
On its website Saudi Arabian Airlines confirmed that its two hub airports which serve the US have received clearance from the DHS.
With enhanced security measures in place, all restrictions on large PEDs announced in March for 10 airports/9 airlines have been lifted.

— David Lapan (@SpoxDHS) July 19, 2017
In March, US President Donald Trump's administration barred all electronic devices larger than a mobile phone in cabins on flights from ten airports in the Middle East and North Africa over concerns that explosives could be hidden inside them. Such devices have been allowed only in checked luggage.
Over the past three weeks US officials have lifted the ban after visiting the airports affected in the region to confirm new security measures announced were being properly implemented.
The ban has been lifted on Etihad Airways, Emirates, Qatar Airways, Turkish Airlines, Royal Jordanian, Kuwait Airways, EgyptAir and Royal Air Maroc.
The new requirements which were announced last month include enhanced passenger screening at foreign airports, increased security protocols around aircraft and in passenger areas, and expanded canine screening. They affect about 2,000 commercial flights arriving daily in the United States from 280 airports in 105 countries. Airlines that fail to meet the new security requirements could face restrictions on in-cabin electronics.
READ MORE: US announces 'first step' in new air travel security measures
A travel ban on citizens of six Muslim-majority countries – Iran, Libya, Somalia, Sudan, Syria, and Yemen, – remains in place, although it has been challenged in US courts.
You can share this story on social media: