Alibaba shares skyrocket on jaw-dropping revenue outlook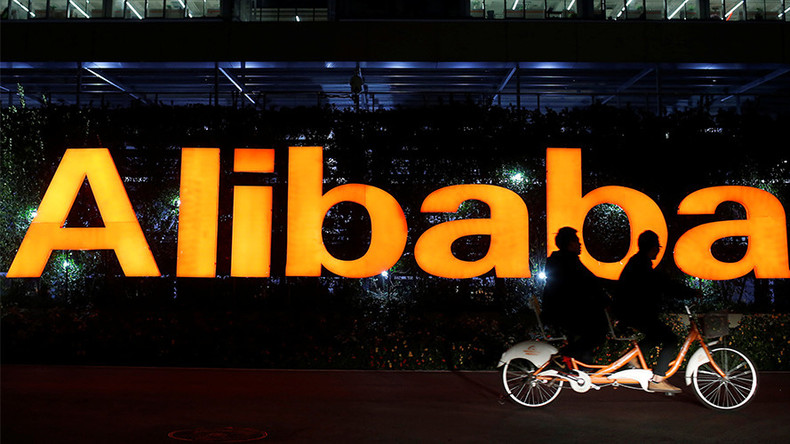 Chinese e-trading firm Alibaba stock surged 13 percent to a record high after the company's sales growth forecast exceeded analysts' expectations.
On Thursday, Alibaba's Chief Financial Officer Maggie Wu said annual revenue growth is expected to hit up to 45-49 percent during the fiscal year ending March 2018. The target implies sales of up to $34.3 billion.
The outlook tops experts' expectations of $31.42 billion by nearly ten percent. The market value of the e-commerce giant surged by $42 billion.
Alibaba shares have risen more than 40 percent since the beginning of the year, and 60 percent year-on-year.
"The company will continue building its ecosystem based on data technology with core businesses supported by payment, logistics, data management platform and cloud," said analyst Jessie Guo at the US-based investment bank Jefferies as quoted by CNBC.
The latest guidance puts the company on track for its best yearly jump in sales, according to CFO Maggie Wu, as quoted by the Financial Times.
Last year, Alibaba's revenue rose 56 percent, including Lazada, the South East Asian e-commerce group which was consolidated into Alibaba's numbers from April. Separately from the Lazada division, the company's growth was close to 44-45 percent, according to Wu.
Alibaba has also partnered with Chinese internet company Tencent to invest into new sectors, including cloud computing services and streaming music and video.
The company's head of finance also said Alibaba would continue investing to extend the number of consumers on the platforms it currently runs. The company aims to improve its customer experience as well as increase its market share in the business-to-consumer market.
Alibaba's most valuable asset is data collection, according to the company's Chief Executive Officer Daniel Zhang. The corporation can provide its customers, advertisers, and businesses with better services, analyzing the collected data.
"If we use one sentence to describe Alibaba, Alibaba is an economy, driven by big data," he said, as quoted by MarketWatch.
You can share this story on social media: