Russia's Putin, India's Modi to attend 'most intensive' St. Petersburg International Economic Forum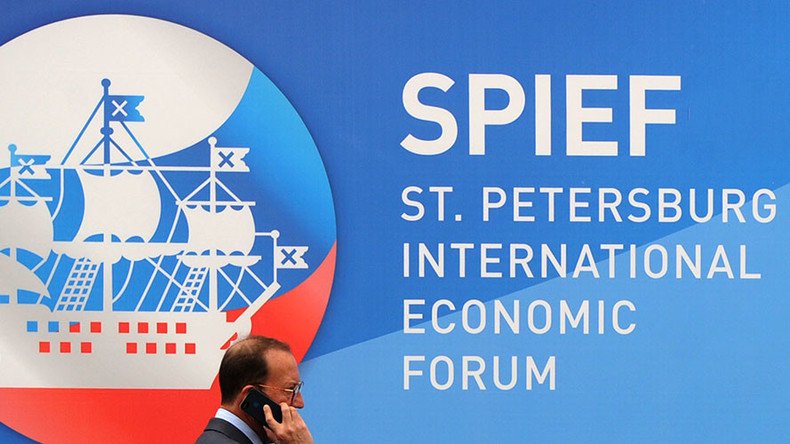 The upcoming 21st International Economic Forum in St. Petersburg, featuring Russian President Vladimir Putin, Indian PM Narendra Modi and Austrian Chancellor Christian Kern, will provide the most intensive program in the event's history, the organizers said.
The St. Petersburg International Economic Forum (SPIEF) is scheduled to take place June 1-3 in Russia's second-largest city, often also regarded as the country's cultural capital.
READ MORE: Putin, Modi to join session hosted by NBC's Megyn Kelly at St. Petersburg economic forum
"A plenary session with the participation of Russian President Vladimir Putin, Prime Minister of India Narendra Modi and Federal Chancellor of Austria Christian Kern, set to take place on June 2, will be the central event [of the forum]," said Anton Kobyakov, Russian presidential advisor and executive secretary of the SPIEF organizing committee.
Some 39 ministers from 26 countries have confirmed their participation in the forum, with a total estimated number of participants, including businessmen and representatives of various international organizations, exceeding 5,000, he added.

International Atomic Energy Agency (IAEA) director general Yukiya Amano, Saudi Energy Minister Khalid Fatih, the heads of 250 foreign companies, including BP, Total and Boeing, are among those expected to arrive in St. Petersburg.

More than 70 Russian regional heads and over 700 of the country's companies have also signed up to discuss key global economic and financial issues with international partners. SPIEF is known to be a major deal-making event, with $17 billion worth of deals not subject to commercial secrecy made in 2016.
According to Kobyakov, this year's SPIEF promises the most intensive program in the forum's history, with a total of 108 business events planned.
READ MORE: Investment funds worth $10 trillion center stage at 2016 St. Pete Economic Forum
"The program for the 2017 Forum reflects current economic trends in Russia and the challenges facing the global economy today. The discussion will focus on the current status of the international economic system and the prospects for its sustainable development, the search for the best paths toward solving pressing problems, and how to make use of emerging opportunities," he said.
Sessions dedicated to the Shanghai Cooperation Organisation (SCO), BRICS, the B20 International Trade and Investment Forum as well as sessions of the Valdai Club are also on the agenda.
The SPIEF Investment & Business Expo will showcase Russian and international investment projects during the forum in St. Petersburg.
You can share this story on social media: