Davos agenda to be 'reflected' at 2017 intl' economic forum in St. Petersburg – organizer to RT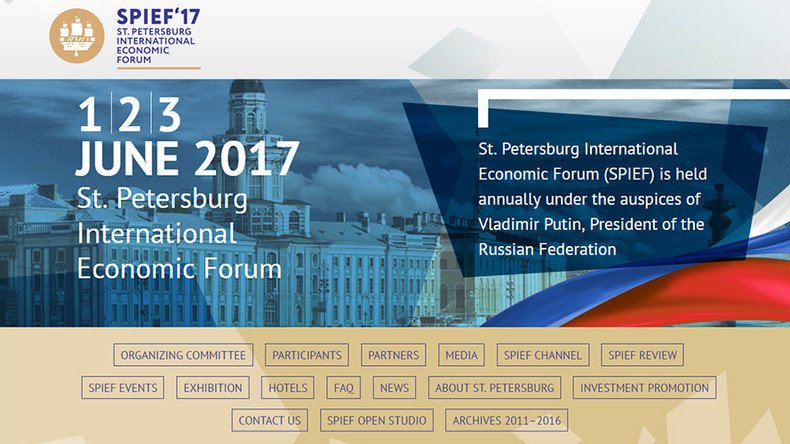 Parts of the agenda from the World Economic Forum in Davos will also find a place in the program of the annual International Economic Forum in St. Petersburg (SPIEF) this year, a key organizer of the Russian forum told RT.
As platforms for dialogue, "we have been always cooperating with the forum in Davos", director of Roscongress foundation, Aleksandr Stuglev, said in an interview with RT.
Stuglev was speaking on the sidelines of the international forum, currently underway at the Swiss ski resort of Davos.
Some of the people involved in the organization of the Davos forum, are also part of the preparatory team for the annual event in St. Petersburg.
There are "more than 200 experts who are on a permanent basis involved in the preparation of the SPIEF program," Stuglev said. In addition, when it comes to the number of "professionals" who are engaged in the process, "the figure will rise to 1,000 people."
"There is no doubt that the participants at the Davos forum are among them and the program parts which are being discussed at Davos, will be reflected in St. Petersburg as well," Stuglev told RT.
The Roscongress director also referred to the external session of the global Davos forum which took place in Moscow in 2016 (for the first time in three years).
"The decision to suspend the activities of the forum in Moscow was made by themselves [organizers]. I believe that if they continue to hold events in the Russian capital, then there will be no obstacles," Stuglev said.
READ MORE: Renowned pianist Denis Matsuev plays Rachmaninov & Beethoven in Davos, Switzerland
He noted that relations with the organizers of the annual gathering in Switzerland "are very warm" and they have already been invited to the SPIEF 2017, due to be held in early June.
The Roscongress Foundation was established in 2007 and is a key organizer of internal and international congresses and exhibitions with an economic and social focus.
You can share this story on social media: