Japan seeks to salvage TPP after US withdrawal from trade deal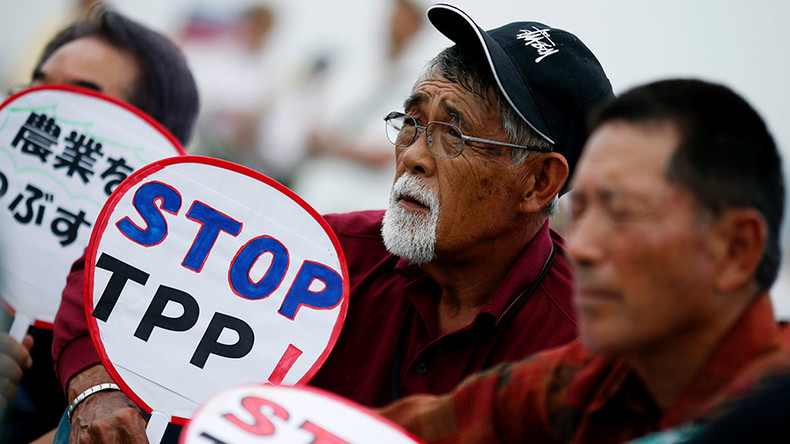 In an apparent reversal of its previous position, Japan may yet go ahead with the Trans-Pacific Partnership (TPP) talks, even after the exit of a core member. Donald Trump withdrew from the pact as one of his first acts in office, calling it a "job-killing" deal.
The trade deal seemed doomed without the US, which was TPP's biggest market accounting for 60 percent of its GDP, and after Japanese officials earlier said that it would be meaningless to proceed without American involvement.
But Tokyo may now attempt to salvage what's left of the deal with its remaining 11 members, signaling a U-turn from its previous stance.
"We have a feeling that the 11-nation framework should be given weight," the Japan Times reported Chief Cabinet Secretary Yoshihide Suga as saying in an interview on Saturday.
Instead of having America in the TPP, Japan may now seek closer bilateral ties with the US instead. And while Trump has pulled his country out of TPP, he has not objected to the remaining 11 nations to carry on with the agreement.
The TPP was signed in February 2016 by Australia, Brunei, Canada, Chile, Japan, Malaysia, Mexico, New Zealand, Peru, Singapore, the United States and Vietnam. Together, it would have covered about 40 percent of the global economy.
Singapore said they will still be on board if consensus can be reached among all 11 parties. Malaysia and Vietnam may be more reluctant to proceed as they joined and made concessions under the assumption that the US would be involved.
Japan will finalize its position on TPP after scheduled talks between Finance Minister Taro Aso and American Vice President Mike Pence who is on a 10-day trip to the Asia-Pacific. The Aso-Pence meeting is due to take place in Tokyo on Tuesday.
READ MORE: Japan dismisses US accusation of protectionism
One potential stumbling block in the negotiations is the issue of Japan's US$69 billion (S$96.3 billion) trade deficit with the US. Also on the table are intellectual property rights and easing of regulations for foreign firms entering the financial and retail sectors.
The TPP agreement does not include China, but Japan has been engaging Beijing about the 16-nation Regional Comprehensive Economic Partnership, an alternate free trade agreement for the Asia-Pacific to which the United States is not party to.
You can share this story on social media: