'What, no handshake?' Swedish company sued over job interview turned sour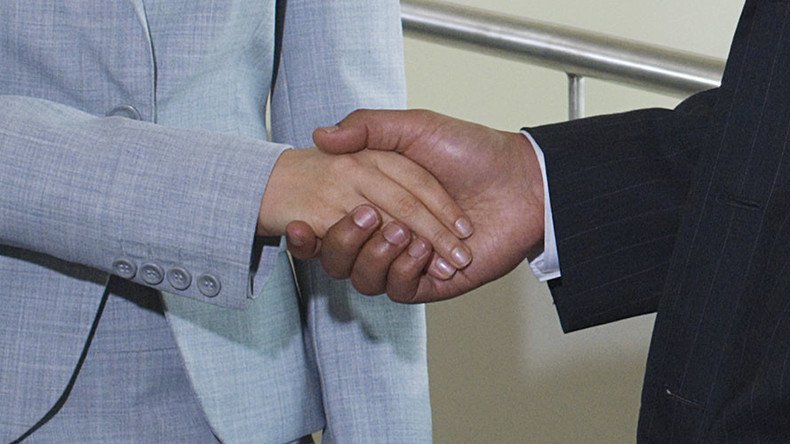 Sweden's discrimination ombudsman (DO) has sued a company for calling off a woman's job interview over a handshaking disagreement, the local media reported.
According to the report, the woman was called to a job interview in Uppsala with a company providing interpretation services via telephone or video. The interview was cut short when it emerged she would not shake hands for religious reasons.
"In the first place, DO questions that the company at the time had a neutrality policy aimed at religious expressions, but believes in any case that such a policy had not been applied in a consistent and proportionate way," the DO statement said.
The ombudsman took the case to the Swedish Labor Court, demanding the company pay out 80,000 kronor (approximately $9,000) in damages to the woman.
Last month the European Court of Justice ruled that in certain circumstances employers could require employees to, for example, dress neutrally in line with the company's image. That means a ban on the "visible wearing of any political, philosophical or religious sign in the workplace" could be legal.
READ MORE: Women wearing burqas, niqabs face fines up to $9,800 by Swiss region
The DO said, "those limitations are demonstrated in existing policy and applied consistently and in a non-discriminatory manner." It added that in the case with the Uppsala company the ban could not be enforced because the woman would not be required to meet her customers in person.
"The ruling also shows that the interest in neutrality cannot be used to restrict religious expression for employees who do not have visual contact with customers," said the ombudsman.
Last year, a female Muslim teacher quit her job over pressure to shake hands with male colleagues. She filed a complaint with the country's equality ombudsman.
In another case, a Muslim politician from the Green Party was forced to resign after being heavily criticized for not shaking hands with a female journalist.
Similar cases have also been reported in Germany and Switzerland.
You can share this story on social media: