Global stocks & Sterling steady as Brexit begins
Published time: 29 Mar, 2017 14:59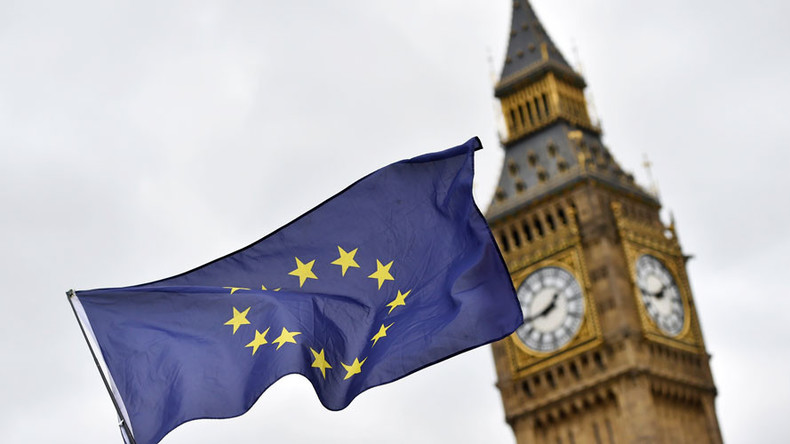 World stock markets were trading steady on Wednesday, with the British pound reversing early losses as the UK officially started the two-year process to exit the European Union.
After a brief dip during Asian trading hours, the British currency balanced, as a draft EU document made no mention of the possibility the two sides would fail to strike a deal.
Sterling was trading down 0.2 percent against the US dollar at $1.2419 as of 2:00pm GMT. It was up 0.5 percent against the euro.
Since the historic June vote to leave the EU, the British currency has plummeted nearly 20 percent against the US dollar, consistently hitting 30-year lows throughout the period.
"Triggering Article 50 is not a shock like the EU Referendum result. It has been widely signaled by the government that this would happen in March, so it is no great surprise," said Andrew Sentance, senior economic adviser at PwC and former Bank of England policymaker.
"Most likely, we face another two years of uncertainty before a new relationship between the UK and the EU is properly agreed. During this period we will probably see some bouts of financial volatility affecting the value of the pound and reduced business and financial confidence," Sentance was cited as saying by the Daily Telegraph.
READ MORE: Britain can still change its mind & stay, say EU lawmakers
Britain's blue-chip index the FTSE 100, which is dominated by overseas earners, was up 0.1 percent at 7,337.88. The FTSE 250 index, which is seen as a better gauge of UK businesses, was almost flat at 18, 93184.
US stock futures and European stocks were unchanged, shrugging off any potential uncertainty of the major "risk event."
S&P 500 futures were little changed at 2,358.57; the pan-European STOXX Europe 600 was up 0.1 percent to 377.81. German DAX and the French CAC were also in positive territory.
Hong Kong's Hang Seng Index added 0.2 percent, while the Nikkei Stock Average was up 0.1 percent.
Nine months after Britons voted to leave the European Union, Prime Minister Theresa May on Wednesday notified EU Council President Donald Tusk that Britain was quitting the bloc it joined in 1973. She said there was "no turning back" from the decision.
Tusk said it was not a 'happy day' and has warned of 'difficult negotiations' in the months ahead. "We already miss you. Thank you and goodbye," said the EU Council President in his statement to Britain.