Lloyd's angers City employees with workday booze ban
Published time: 15 Feb, 2017 14:52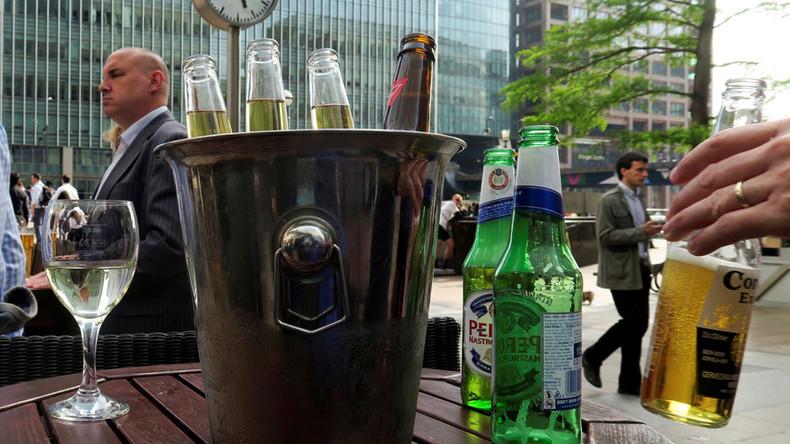 A new rule at Lloyd's of London forbids employees drinking alcohol at work between 9am and 5pm from Monday to Friday. Those who break the rule risk being fired.
The rule applies to all of Lloyd's 800 London staff, excluding underwriters and brokers who are not employed by the company.
According to Lloyd's, the booze ban was introduced following a string of drunken misdemeanors over the last two years. It said it had been considering the move for some time to bring it into line with "industry norms."
"Drinking alcohol affects individuals differently. A zero limit is, therefore, simpler, more consistent and in line with the modern, global and high-performance culture that we want to embrace," Lloyd's internal memo said, as cited by the London Evening Standard.
READ MORE: Russia may ban liquor promos to tackle alcoholism
The staff at Lloyd's of London, the insurance market in the City, have called the new measures "heavy-handed."
The City is known for its drinking culture, with deals and contracts cut over boozy lunches.
Angry Lloyd's employees took to the firm's intranet, blasting bosses for not addressing "more important things."
"Will we be asked to go to bed earlier soon?" one of them asked, while another employee wondered if staff faced random breathalyzer tests.
One more commentator said that "Lloyd's used to be a fun place to work. Now it is the PC capital of the world where you can't even go out for a lunchtime pint anymore?"
According to another employee, "The real irony is that this policy comes eight weeks after the Christmas Party, when staff were plied with copious amounts of alcohol all evening with very little food to be found."
"Were these the actions of a responsible employer?" he asked.
Lloyd's said "the London market historically had a reputation for daytime drinking," but it was time for a change, adding it "has a duty to be a responsible employer, and provide a healthy working environment."