Warren Buffett dumps Walmart, bets on Apple & US airlines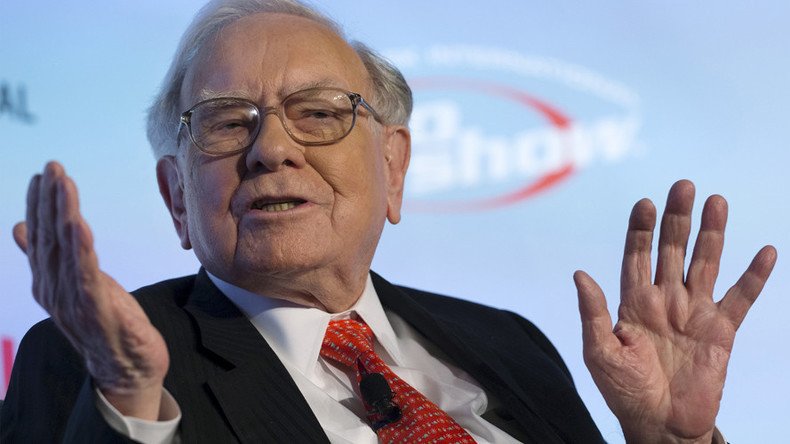 Investor Warren Buffett's holding company Berkshire Hathaway significantly slashed its Walmart stock last quarter, opting to invest billions in airlines and technology instead.
The billionaire sold off $900 million of Walmart stock cutting his share by 89.26 percent, according to GuruFocas that tracks the buying and selling of stocks. Buffett also sold all but 0.01 percent of the US telecom firm Verizon.
The move reportedly leaves America's biggest retailer playing catch-up with e-commerce rivals such as Amazon, whose market value is now $356 billion against Walmart's $298 billion. Walmart shares have declined 21 percent, compared with an 119 percent surge in Amazon since the end of 2014.
Since it started to invest billions in e-commerce, Walmart has only managed to obtain a tiny share of the market compared with Amazon. Its online sales were $13.7 billion in 2015, compared to Amazon's $107 billion. Though, Walmart's overall sales are still four times bigger than Amazon's revenue.
Last year, Buffett acknowledged the competition between brick-and-mortar stores and online retailers is extremely high with the latter likely to win the battle.
"It is a big, big force and it has already disrupted plenty of people, and it will disrupt more," Buffett said at his annual shareholders' meeting as quoted by Bloomberg.
Berkshire Hathaway became one of the most active purchasers in last year's fourth quarter. Buffett's conglomerate almost quadrupled its stake in Apple and increased holdings sevenfold in the four biggest US airlines.
Berkshire reported owning 57.4 million shares of Apple, worth of $7.74 billion. The new stake makes Berkshire one of Apple's ten largest investors.
Buffett's company also invested $2.1 billion in each of the four biggest US carriers: American Airlines Group, Delta Air Lines, Southwest Airlines and United Continental Holdings.
READ MORE: Warren Buffet strikes biggest deal, buys aerospace company for $37.2bn
At the same time, Berkshire disclosed new stakes in satellite radio company Sirius XM Holdings and seed company Monsanto, which is being bought by Germany's Bayer.
You can share this story on social media: